This past awards season's red-carpet coverage culminated with the Academy Awards in a swath of bodacious ball gowns and slick suiting. From somewhere in between those two glamorous poles rose a man in a boundary-breaking, history-making jumpsuit. LaKeith Stanfield stepped out (or rather, posted to Instagram, as he resides in London) in a tailored Saint Laurent jumpsuit with a safari-jacket-style top, a belt-cinched waist, and a white pointed collar. The inspiration? A women's look from the spring '21 collection. The woman responsible? Stylist Julie Ragolia.
The subtly subversive look made history, according to GQ's Rachel Tashjian, by circumventing the all-or-nothing trend to outfit men in dresses à la Harry Styles and Kid Cudi. Ragolia instead imbibed a men's look with feminine inspiration in a reverse "borrowed-from-the-boys"-style swap. "I like that grey space between genders," the stylist explains.
Whether it be the odd curvature of a collar or murky gender cues, Ragolia is comfortable with subtle yet purposeful "wrongness," as she calls it. That signature reinterpretation of flaws commonly present in her work not only alludes to the imperfection of humanity, but ensures relatability—not an easy task in this fanciful industry. "We're not perfect, as humans. Fashion can't create a perfect human. We're too diverse," argues Ragolia. "We're diverse in our backgrounds and our shapes and sizes. That's the fun stuff."
We're not perfect, as humans. Fashion can't create a perfect human. We're too diverse."
Though now a sartorial juggernaut, she did not plan on entering the realm of celebrity fashion, nor did she initially want to be a stylist at all. "I was a philosophy major," she says. "I thought I would be an academic or a curator." A childhood spent in the projects of Brooklyn cemented not only a "fighter's spirit," but a sort of "anti-fashion" mentality. Case in point: She only entered the industry because she was told she couldn't.
Initially attracted to the "kindred-spirit" nature of its title, the fledgling aesthete followed the direction of the agency Streeters—"I fancied myself street-y"—to an informative stint under Alex White at W Magazine. From there, Ragolia worked behind the scenes of runways (a regular at Zegna) and on editorials across various independent magazines, where she happened upon the likes of the aforementioned Stanfield and fellow Oscar nom Riz Ahmed. Both exhibited a shared philosophy, energy, and ability to view clothing as an opportunity to stretch culture that she immediately identified with.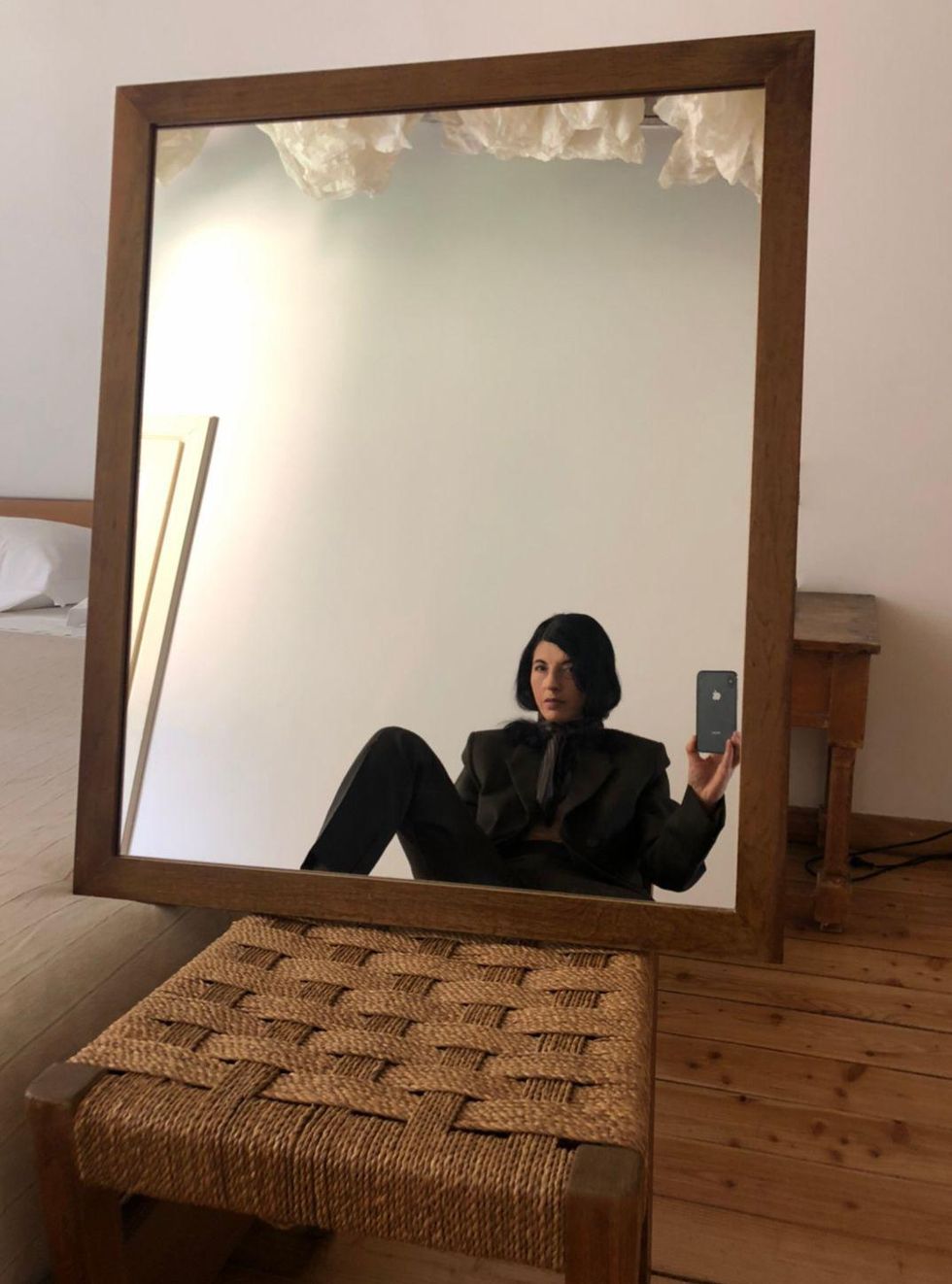 Photo: Courtesy of Julie Ragolia
The way in which Ragolia describes the similarities she shares with these actors, she repeats when she recounts finding solace in menswear. Often clad in menswear herself (or The Row, but is that really so different?), she says menswear suits her personality. "I just kind of like to do my thing and do it well, and I feel like menswear works that way," she explains. "I'm a low-key person, and I think menswear is cool because everything is kind of low-key."
With respect for this appreciation of the "magic of menswear," she credits Tom Kalenderian, former VP of Barneys. This is where her eyes begin to light up. "He made me so curious to understand the intricacies behind the making of a garment, especially a menswear garment," she explains. "It's so much more complex. There's the standard of what we think menswear is, but it's all the stuff that lives on the inside that makes something so special."
The more I learn about how a tailored garment is made, the more addicted to the process I am. I'm like a kid every day."
"The more I learn about how a tailored garment is made, the more addicted to the process I am," she continues. "I'm like a kid every day." Her excitement is not tinged with the exasperation commonly found in those who have weathered the industry's sartorial storm for more than a few years. Though she addresses its shortcomings, she then promptly approaches them as opportunities.
Take her position in menswear for example. The fact that it has yet to be fully explored, at least in comparison to what's been done in womenswear, is a chance for creativity rather than a limitation. The current moment in menswear is an exciting one, she explains as she cites Rick Owens, Thom Browne, and Alessandro Sartori of Zegna as instigators of change.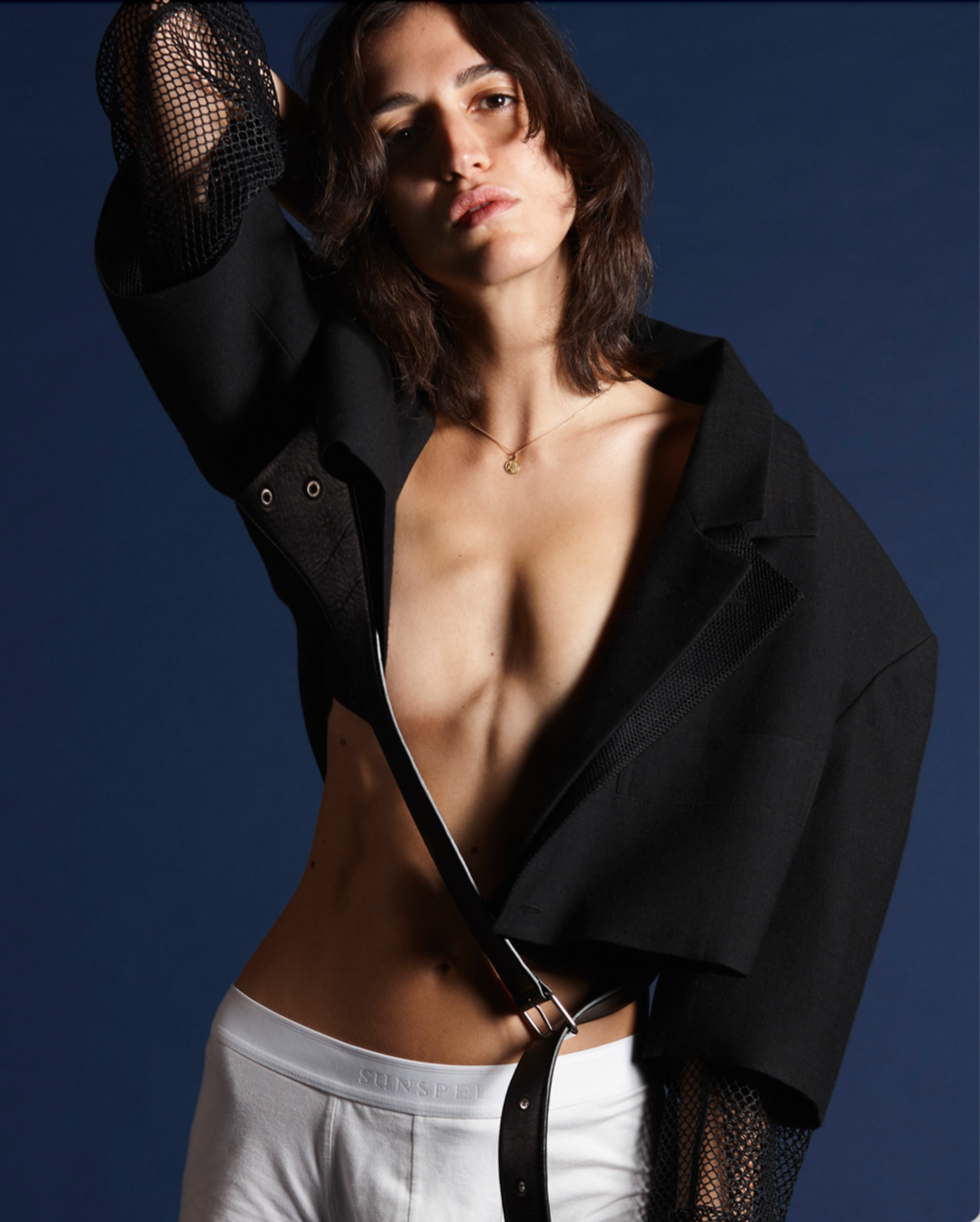 Photo: Courtesy of Julie Ragolia
These shifts don't have to be exponential, though they often appear so in the female counterpart. "From a drop crotch or a skirt to a shortened sleeve or a cropped ankle, even shifting to the sneaker instead of a straight shoe—these little evolutionary details become larger staples. Men are learning from that how to still be sartorial, to still be dressed for whatever occasion through leisurewear." She speaks of a well-tailored sleeve the way many of us would discuss Van Gough's Starry Night.
From a drop crotch or a skirt to a shortened sleeve or a cropped ankle, even shifting to the sneaker instead of a straight shoe—these little evolutionary details become larger staples."
Though most of this commentary has been, by structural default, gendered, the result of having it is that we are all more free to express ourselves simply as human beings. Certain words popped up repeatedly: comfortable, freedom, expression, imperfection. In imagery, those descriptors take the visual form of an item of clothing worn improperly or not at all, colors that don't seem to go together, or even a toothy grin paired with a solemn, stereotypically fashion ensemble. "People have said to me on many occasions that they see themselves in my work. That, to me, is amazing because it's that certain universality I'm always trying to find through fashion with its extremes on all sides."
In a taste-specific world, that sense of brokenness transcends preference and speaks to all. It's this candid communication achieved through the lens of clothing where Ragolia chooses to reside. Her motto is simple: "Stay honest and stay curious."