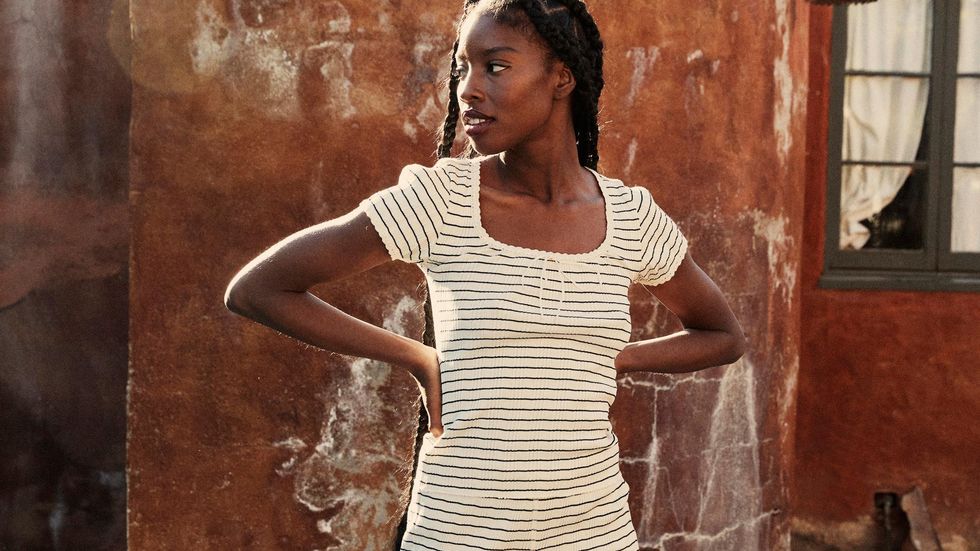 Nothing beats a good stripe in the summer. More specifically, blue-and-white mariner-esque styles—to us, the mere sight of one elicits the calming effects of a sea breeze, epitomizing the season. But all lined tops are hardly created equal, and the path to modern iterations isn't so linear. From nautical knits to easy tees, designers and brands interpret stripes through more than a quintessential lens. Notably, this season an alternative approach to classic Breton, Bengal, and awning stripes (to name a few) is the trend, appearing on pullovers, turtlenecks, polos, and cardigans. Half-zips have resurfaced as an "it" silhouette, too. Think exaggerated blocks of color instead of fine lines, variegated stripes that graduate from small to large, and myriad shades, from timeless navy to punchy sky blue.
With an inherently nautical feel, these heavier-weight designs lend themselves to coastal occasions where you're likely to catch a chill. The beach may be synonymous with swimwear, but let's not forget those chillier days aboard a boat or strolling the coastline when layering is, in a word, essential.
Similarly, utterly perfect tees—both short-sleeve and long—abound and in a range of fits with a decidedly fresh feel. Our favorites? Boxy and structured, slouchy and lived-in, and fitted with a tuckable nature. The result across the board is distinctly modern and well suited to a spectrum of summer outfits. Low-key for errands and weekday meet-ups? Naturally. Subtly spruced for coffee dates and dinners? Oh yes. Elevated for pairing with so-smart pieces? You better believe it.
Keep scrolling to discover 22 modern summer stripes, from knitwear to tees, all with a seafarer feel. Plus, we hear from a mix of designers and brands on their design approach, with styling tips to carry you through the season.
On modern design:
"After so many years of perfecting the striped tee, I've found that fit and fabric weight are what determine a great striped shirt. We have many styles, but our modern styles are our most classic, with a straight cut that hits at the hip and [made from] 100 percent cotton, of course. The feel and fabrication of the tee really makes a difference and keeps it fresh after many wears. For spring/summer 2021, I went for cheery colors like our classic poppy, bright blue, yellow, and then all of them together in a rainbow stripe. Our Kule Green collection is part of our Organics collection and is made from 100 percent organic cotton from Portugal. It has the same fit, but is part of our ongoing efforts to be more sustainable."
On styling stripes:
"I like to look at classic photos of women in striped tees. The most timeless and foolproof way to style [one] is with a favorite pair of jeans. You can dress it up with a strappy heel for summer or more casually with a fisherman sandal or classic shoes like a woven or lightweight loafer. I also love pairing striped tees with khakis—especially if there's a navy or poppy stripe. It's the kind of outfit that's just so classic, and you'll always feel great in it.
"There's also something about the cool casualness of a striped tee and really fancy bottoms like a voluminous skirt. I try to show our styling suggestions on our Instagram frequently in both stories and on our feed. There are endless ways to style a stripe. Striped tees are like a blank canvas, made to have fun."
Valerie Macaulay
Co-founder and CCO, La Ligne
On modern design:
"The brilliant thing about stripes, especially classic Breton styles, is they naturally feel fresh but iconic. When designing for different seasons, we like to think about color, silhouette, and fabrication. The cream-and-navy Marin sweater is probably our best-selling sweater that we have been consistently selling since our first year, but we reinterpret it in different color combinations every season, like peach and orange, and bottle green with mint. We launched our Bastien sweater in the fall—a classic cream-and-navy stripe in a new half-zip style—that we have had to recut twice to meet demand. Our new Marina Sweater [is from our newest drop with the] same Mariner look, but in lightweight cotton, which we are all excited about."
On styling stripes:
"The beauty of the mariner stripe is how bold or neutral it can be. I like wearing the brighter-colored Marins, like the red and pale blue, with jeans or a wide-leg neutral pant like our Saylor pants. I also like pairing a neutral cream-and-navy stripe to balance out bolder monochrome looks, like the Bastien Sweater wrapped around my shoulders while wearing the Constance dress. And, of course, nothing beats stripes on stripes. We have a very thin, luxe cashmere that we use in the Fine Line collection, and I love wearing the striped turtleneck under black dresses and under our sweaters for an added pop."
On modern design:
"I love a stripe, especially for summer, but not only. This season I reinterpreted the mariner stripe by knitting it in a terry stitch and using a more vibrant shade of blue. The idea was to make it a perfect versatile summer sweater for all occasions."
On styling stripes:
"Always keep it casual. It's perfect for an evening beach cover-up or paired with white jeans—my personal year-round favorite—during the day."
On modern design:
"The Aria polo sweater is a favorite this season and a nod to modern retro. The sweater's sleek polo collar in a mid-weight fisherman rib stitch strikes the perfect balance between feminine and some slight tomboy attitude."
On styling stripes:
"We're enjoying styling back to our Maya pant—a polished, sleek, lounge pull-on pant in navy—[as] a refined yet relaxed work-from-home look. I'm completing [it] with a slide or a polished, clean sneaker to feel a little more dressy.
"Going to a business presentation to impress or out to lunch or dinner, [I love the Aria polo] with a block-heel mule [and] Ulla Johnson's cotton tailored Navy Dune trouser. The contrast color topstitching gives that extra nautical twist, and the silhouette has such a cool, relaxed yet polished feel.
"I'm also wearing [the Aria] back to my favorite ecru wide-leg, high-waist pant from Apiece Apart for that nautical sensibility. It's a go-to everyday staple [for] weekend family or relaxed workdays."
Maggie Winter
Co-founder, AYR
On modern design:
"The perfect striped tee—loose but not shapeless, soft but substantial—was in our original scrapbook when we were first creating AYR. Something about the ease of the silhouette and the graphic stripes makes it a creative uniform classic. Ours is made from Peruvian Pima cotton, [which is] a long-staple fiber, meaning it has extra strength and softness.
"The French Fry, our classic striped long-sleeved crew, has been so popular—like its name, you can't have just one—that we've added stripes into our best-selling short-sleeve, The Supercool. The Brick Lane, a dark red stripe, sold out in a week."
On styling stripes:
"Stripes are the perfect pattern for minimalists and a perfect neutral for maximalists. Our team usually tends toward simpler styling, so we'll tuck The French Fry into a pair of crisp trousers or comfy jeans."
Somsack Sikounmoung
Co-founder and Design Director, Alex Mill
On modern design:
"I love the style and essence of the classic mariner, and for spring we updated ours using a textured 'garter' stitch that gives it a modern twist. The heavier cotton yarn also makes this a great year-round sweater."
On styling stripes:
"I always love styling more classic pieces with something unexpected. With the mariner stripe, that could be a great pair of army fatigue pants or old worn-in jeans to give the overall look a different frame of reference."
On modern design:
"This white mariner stripe is a classic of ours and kind of famous—it was allegedly worn by Kate Middleton (twice) and still gets attention. So it stays in the collection. Our knits are fitted and stretchy, and unique in that sense. Although this is a preppy stripe, our waisted, body-hugging shape makes it look more sexy and feminine."
On styling stripes:
"Our knits are great with high-waisted bottoms in general—they tuck neatly into any skirt or pant. What's amazing about this mariner stripe is that it 'finishes' the look, be it a simple pair of jeans or high-waisted shorts. It sends the message: 'This ain't no accident; I wanted you to know that I have good taste.'"
On modern design:
"Every woman needs at least one striped tee in her closet. It's a year-round staple for me. The inspiration always comes back to the classic French mariner, worn by so many iconic French artists from Chanel to Picasso. The striped Brady is our version of the timeless short-sleeve mariner, sophisticated as it is nonchalantly cool. Made out of the perfect weight cotton, it has a bit of a vintage feel to it, with nicks on the hem that make it feel like the perfectly worn-in tee you've had forever."
On styling stripes:
"I always offer in my collection 'my wardrobe,' including a few striped tees to be styled with jeans or a classic trouser and sneakers."
On modern design:
"Mariner stripes are so iconic to me—it has been a personal classic in my wardrobe since I was a kid. I guess it is very French, but growing up, everybody around me would own at least one. So when I started Paradis Perdus, it was obvious to me that I would need to have one in the line, but I wondered how I would perfect something so anchored in fashion's common heritage.
"My first step was to develop the perfect recycled yarn, perfect weight, perfect tension, perfect recovery. I was trying different sizes of stripes with every single knit, and this is how the idea came of using a different stripe pattern at the sleeves—it's a beautiful mistake. It embodies my vision of dressing; it's not proper, not perfect, it's a feeling.
"We partner with a small family-owned factory in Italy to create our knitwear, finished by hand by artisans and using exclusively fully recycled yarns. By modernizing the mariner stripe to fit our Earth and its changing climate's demands, we hope to be a spark of change in the grand scheme of transitioning the fashion industry toward a more sustainable schema."
On styling stripes:
"I like natural, not overdressed, not over-designed silhouettes. To me, the perfect way to wear a mariner sweater is paired with denim. I'm really into vintage Wranglers—I got [a pair] in L.A. before COVID, and I can't take them off. They just feel real—the wash is perfect, the silhouette is confident.
"As for where to wear it, it's probably one of the most versatile pieces in the ready-to-wear, from a beach-night diner on the Mediterranean coast to an event."
Katherine and Margaret Kleveland
Co-founders, Dôen
On modern design:
"Every spring/summer season, we have mood boards filled with inspiration of the classic mariner stripe—usually stills from the Mediterranean seaside or old French films. This season we updated the style using a supersoft vintage-feeling variegated cotton stripe with crochet trim and tie detailing. The kind of shirt you find at the flea market, which is normally threadbare due to years of being well loved." —Katherine Kleveland
On styling stripes:
"We designed some easy little tap-style shorts in corresponding stripes. We love the idea of wearing a set with sandals over a bathing suit for happy beachside memories. Of course, pairing with vintage Levi's or our Maritime jean is always the best combination for the ultimate by-the-sea look." —Margaret Kleveland
Shop More Modern Stripes: