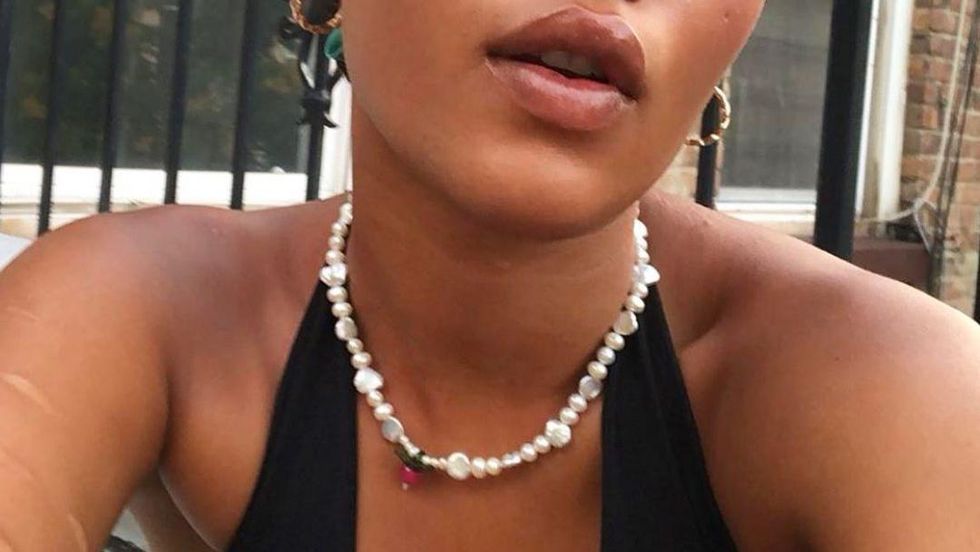 Summer entails warm weather. Warm weather calls for less clothing. An equation that most find freeing often challenges many sartorial superstars who relish their abilities to create interesting ensembles by layering different materials, colors, and silhouettes against each other. The question then becomes: How do you add intrigue to an ensemble without quite literally overheating? The answer? Jewelry! When you are relegated to tank tops and shorts, strands of layered gold chains or a beaded anklet can jazz up what previously seemed a simple 'fit. So we've rounded up the biggest jewelry trends we've seen across the city streets and Instagram, of course, for you to add to your rotation immediately.
Under the umbrella of childlike jewelry, beaded jewelry—whether it be anklets, bracelets, or necklaces—is majorly on the rise. Opt for a simple layering style from Azlee, or indulge your inner kid with a playful option from Beepy Bella.
A slight riff on the chain style that has been so popular in recent seasons, the emphasis here is on a blown-out link silhouette rather than a dainty chain. Another timeless style, these options should pair with nearly anything you own.
If you love a good tennis bracelet, you can now don the style across your neck or ankle—or all three! Perhaps you're more into the classic silver hue; otherwise, indulge in colorful extravagance with rainbow styles from Baublebar or Amina Maudi.
Signet rings used to serve as a tool to signify some sort of representation of its wearer. Unless you plan on emblazoning one with your family crest, opt for a more modern decoration such as ombre pink sapphires or otherworldly malachite.
The physical form is a popular source of inspiration for many designers. They are referencing a woman's silhouette, the shape of a hand, even teeth in the case of Daniel Rosenberry at Schiaparelli.
We could rave about this Harry Styles–inspired trend forever. Designers are reinterpreting the classic strand in new and interesting shapes and colorways.
After years of popularity, coin-inspired jewelry has reached a level above trend status. Investing in any of the below or similar styles guarantees you a staple piece that should last in your jewelry box for years to come.