Welcome to Style Diaries, a new series where we research the physical manifestations of our closet tours IRL. We're asking friends and tastemakers to show us what they're *actually* wearing during the week and to provide a little insight into their thoughts on the current state of fashion. This week we are speaking with the creator of Style Is Style, Lydia Okello. They mix high and low fashion in a manner friendly to your wallet, and each ensemble is a lesson in the coolest emerging brands.
What does your style *actually* look like right now?
"Ha! Perhaps a loaded question. I feel like, with the potential of being out of the house more often (thanks to more folks being vaccinated here in Vancouver), I'm having to reconsider what readjusting to the 'the real world' is. I've got a healthy quotient of coordinating sweats and elastic-waist pants in my wardrobe from the past year…and I'm not ready to go back into hard pants again. I'm still looking to 'boneless' clothes when I need to wear more than a Zoom look. Soft layers and oversize, breathable pieces are definitely go-tos. But I'm still on my usual bold, bright, and mood-lifting shit."
Day 1: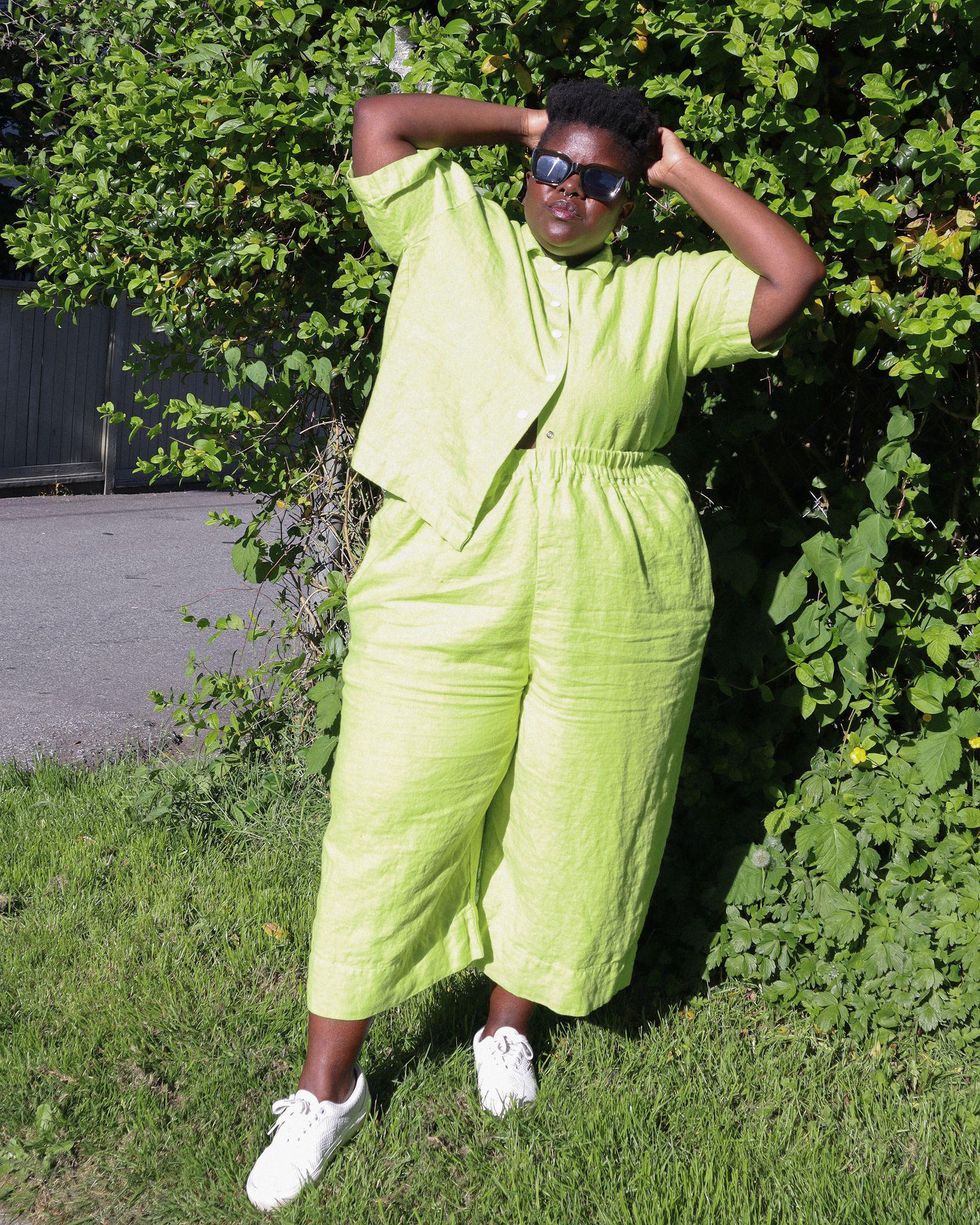 Photo: Courtesy of Lydia Okello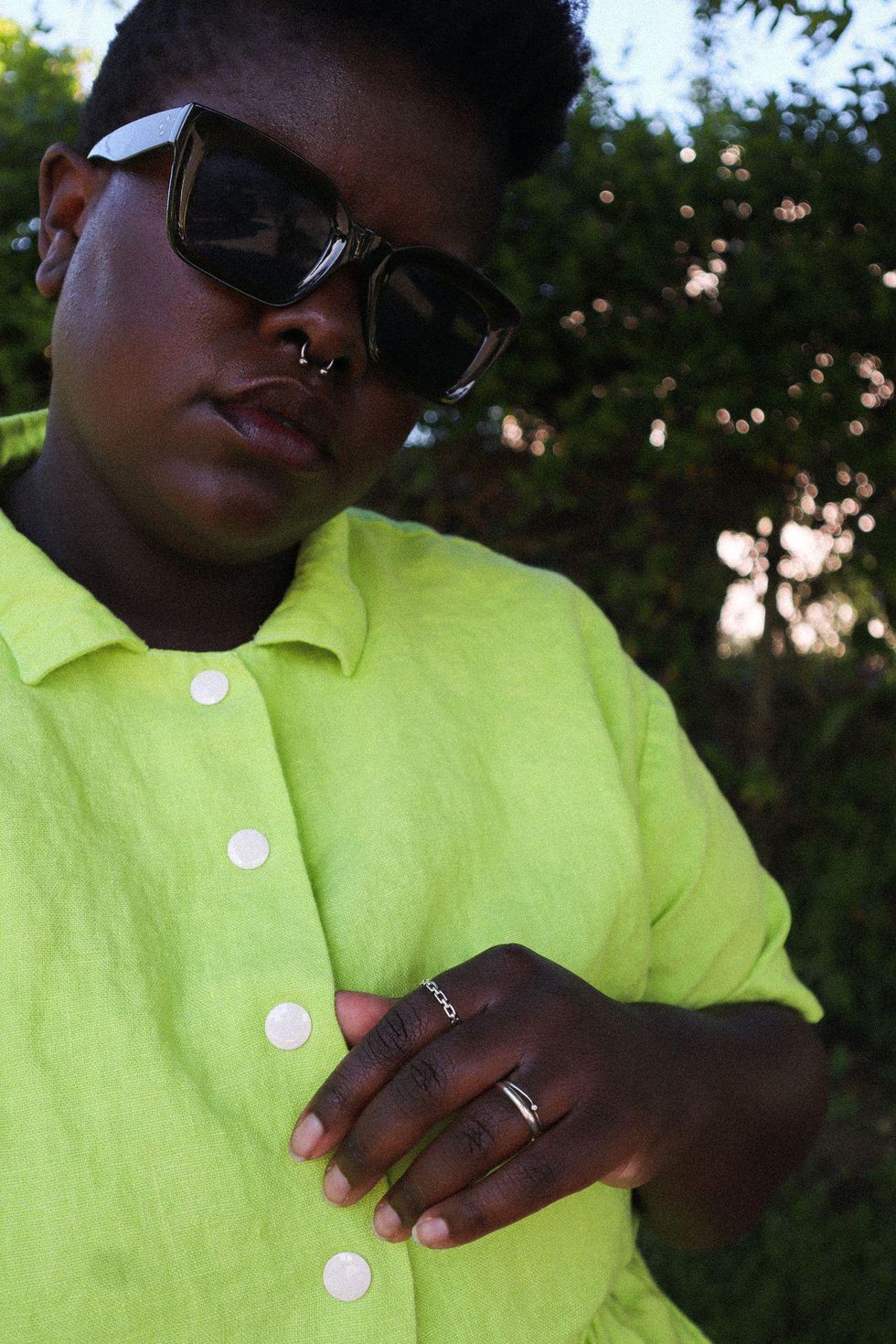 Photo: Courtesy of Lydia Okello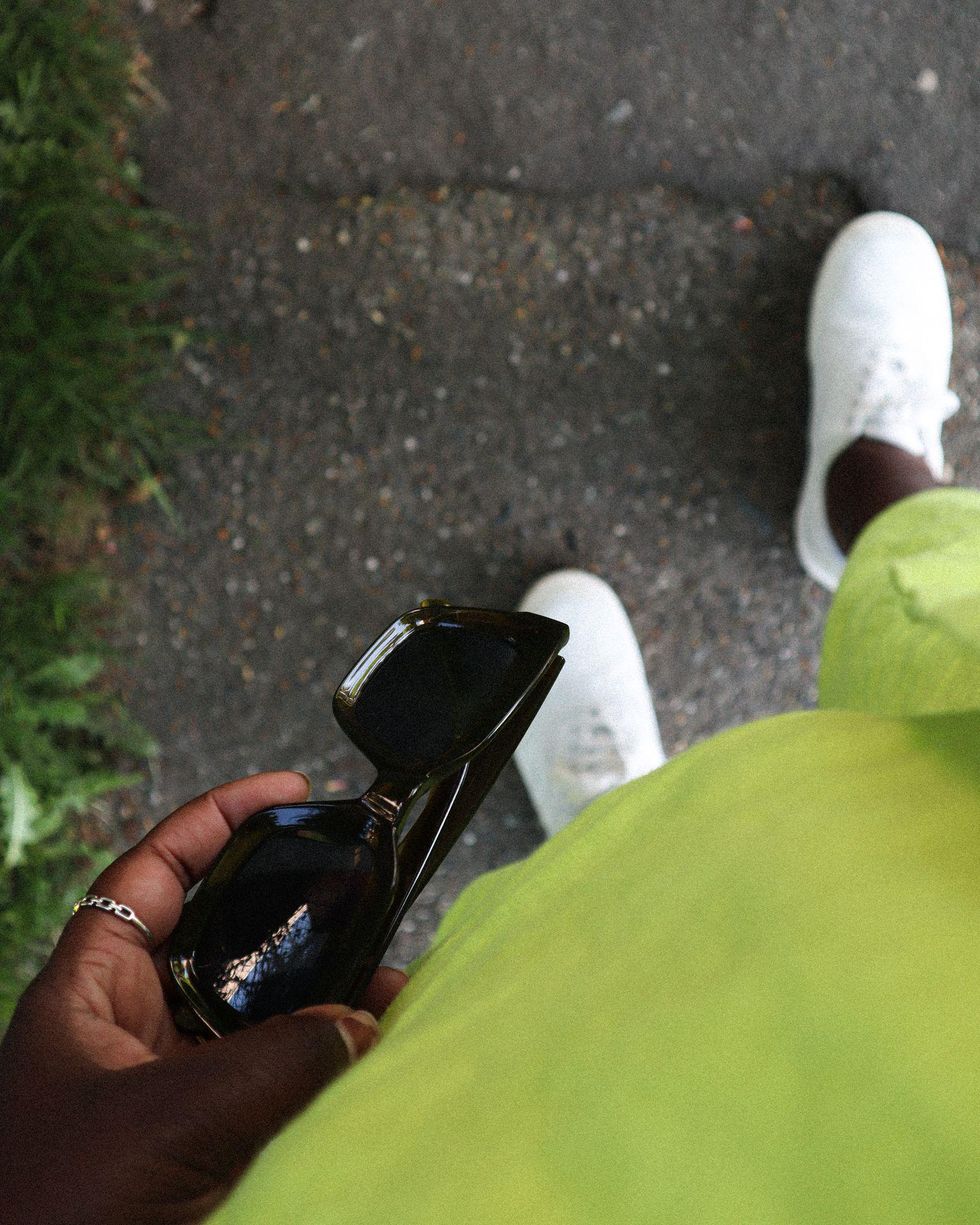 Photo: Courtesy of Lydia Okello
"Who doesn't love a one-and-done? This look is very, very, comfortable. It also holds the record for most compliments when worn. I had a bunch of errands this day, and I felt like the happiest tennis ball. Nettle Studios is one of my favorite size-inclusive, ethically made companies—it's two friends based in San Francisco that make cheerful, comfortable, flex-fit items. It's hard to resist having a full wardrobe—their denim drop this spring was so good!"
Shop the Look:
Do you have a go-to outfit formula, or do you prefer to switch it up when getting dressed?
"I do, but it might be hard to spot because it's *literally* shirt, pants, maybe cute shoes. I would describe my style as kind of a maximalist minimalism. I love classic trousers, collared shirts, and other grandparent essentials, but I like to pick them up in eye-catching shades and patterns. I think if you take a look, over the years I do pick similar pieces. Of late, the biggest change is that I'm really drawn to loose fits. I used to shy away from volume because I thought that it looked bad on me since I am short and plus-sized. Luckily, I learned that is absolutely not the case. Friendly reminder: WEAR WHAT YOU WANT TO WEAR!"
Day 2: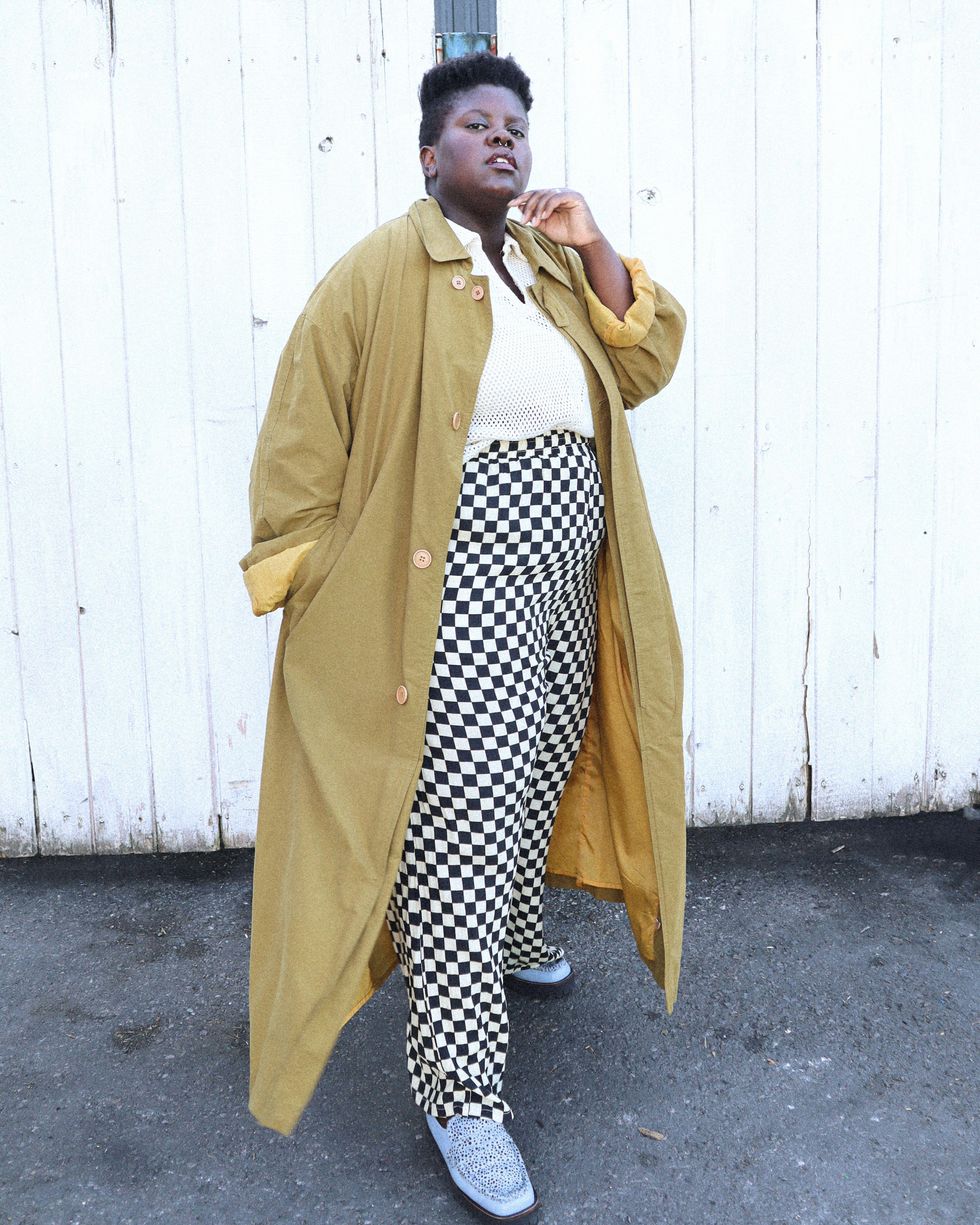 Photo: Courtesy of Lydia Okello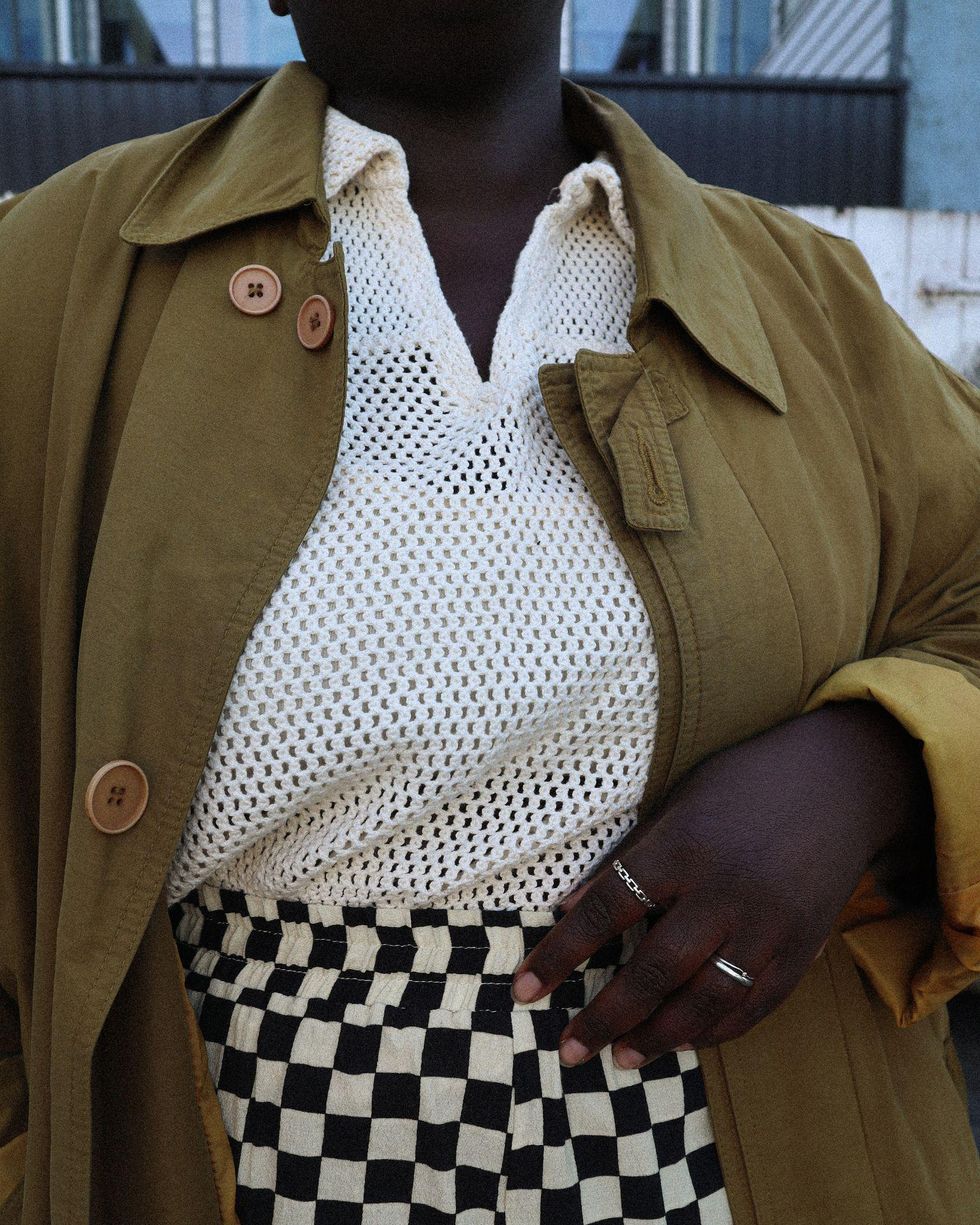 Photo: Courtesy of Lydia Okello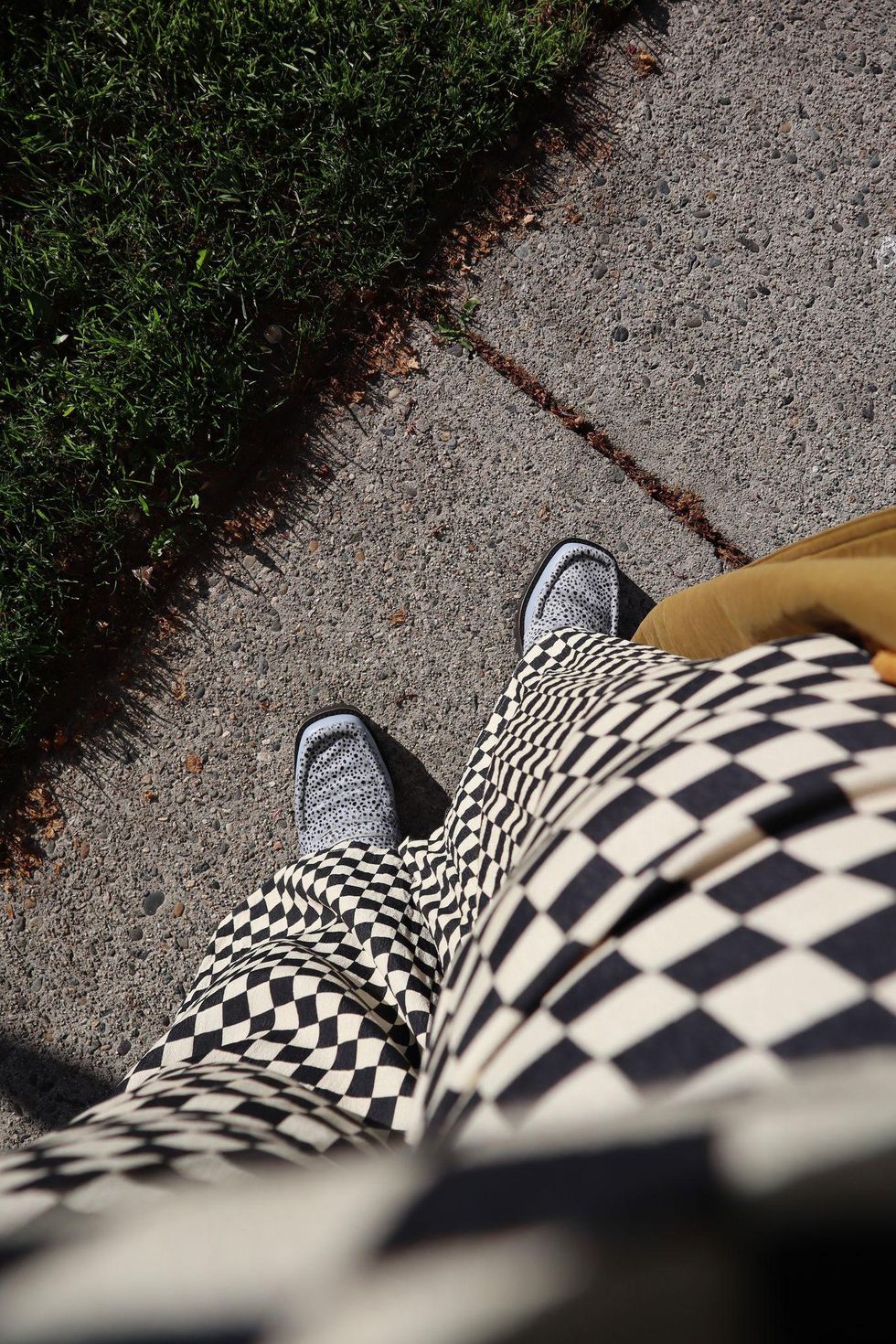 Photo: Courtesy of Lydia Okello
"This coat is one of my favorite thrift finds. It's the perfect weight for *slightly chilly* Vancouver days. Also, a yellow jacket lifts my mood when it's not actually summer yet. The crochet top is a favorite because it's like wearing no shirt, but also completely covered? And these diner check pants from Wray NYC are basically pj's but have a certain 'wow' factor. Soft and comfortable, this look fools people into thinking I have it together during these pandemic times. What's not to love? And, of course, rounding out a bit of a grandpa vibe, soft blue loafers from go-to shoe brand Intentionally Blank."
Shop the Look:
What energy are you bringing to your ensembles this summer? What are you looking forward to wearing?
"Since it's going to be a two-dose summer, I'm leaning into flamboyance and perhaps sexier looks. It will still be me, but I love crop tops, and I'm getting into more one-shoulder and tube tops. You might find me at brunch with an over-the-top jacket or extreme brights. I'm already feeling lighter and brighter."
Day 3: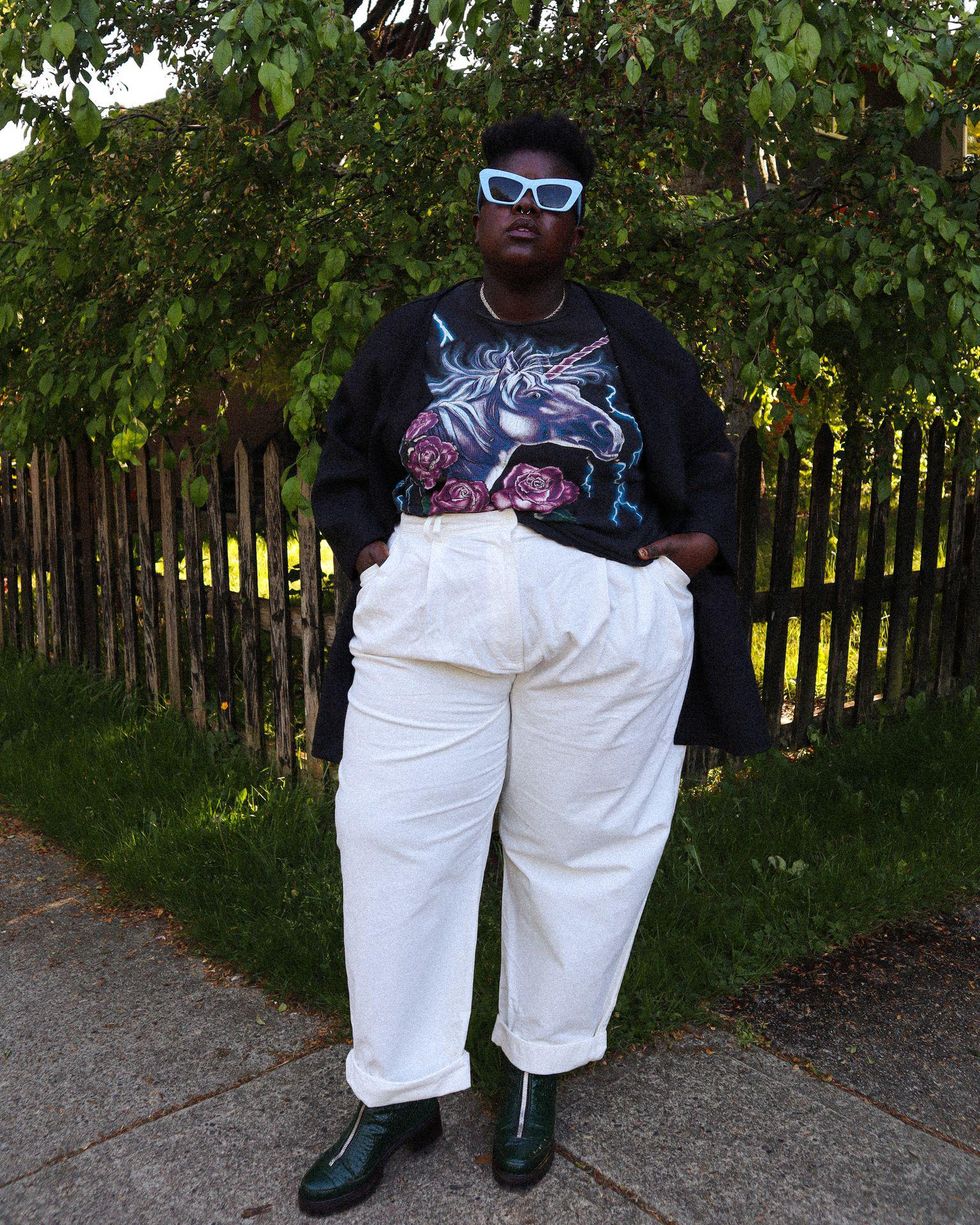 Photo: Courtesy of Lydia Okello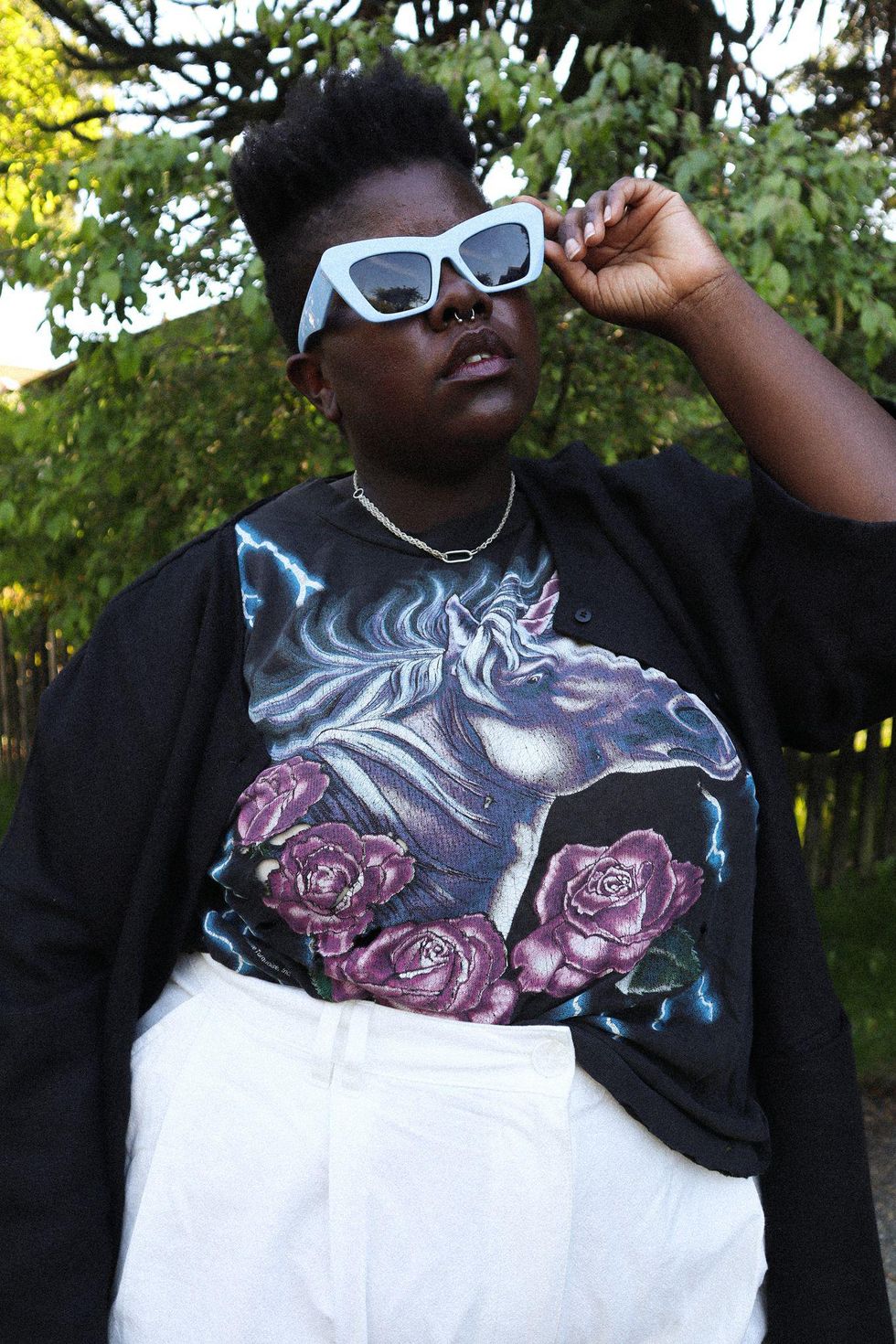 Photo: Courtesy of Lydia Okello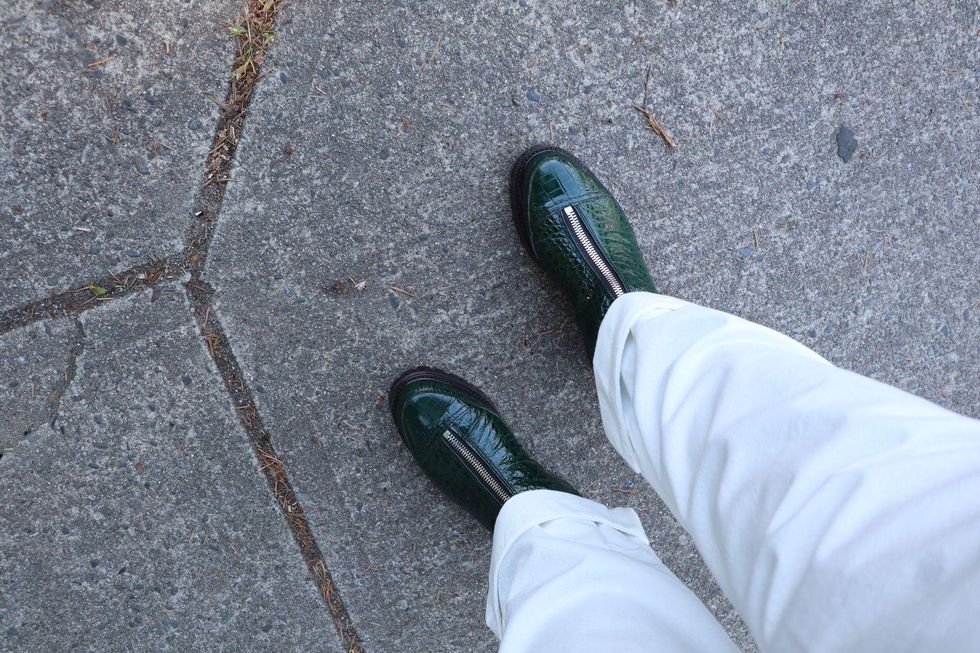 Photo: Courtesy of Lydia Okello
"I am a sucker for fall-apart, supersoft, vintage tees. This unicorn one is a sibling to a panther motorcycle shirt I have. They are probably the two items that are desert-island pieces for me. They took a while to find, and I just love the intense graphics. They're also so, so soft and completely falling apart… This look is very much *Default Setting Lydia.* Simple trouser, easy tee, a layer because I run cold (even in May), and some very special boots. I really love Nicole Saldana's design sensibilities—every pair is nostalgic and unique, yet somehow practical. I'm such a shoe person, so I was really excited to find these on sale at the end of last fall. The heel height is perfect, and the texture is absolutely lovely. My layer is from a Canadian brand that I work with a lot, Beaton Linen. Based in Lund, BC, they make easy-to-wear basics that have a beautifully utilitarian bent. I've got a few pieces from them in rotation!"
Shop the Look:
window.REBELMOUSE_ACTIVE_TASKS_QUEUE.push(function(){
let leftArrowCarrousel = document.querySelector(".shop-sidebar.shop-posts .posts-wrapper .slick-next"); let rightArrowCarrousel = document.querySelector(".shop-sidebar.shop-posts .posts-wrapper .slick-prev"); let imageShopp = document.querySelectorAll(".shop-sidebar.shop-posts .posts-wrapper .widget__image"); let buyButton = document.querySelectorAll(".shop-sidebar.shop-posts .posts-wrapper .widget__product-buy-link-btn"); let productTitle = document.querySelectorAll(".shop-sidebar.shop-posts .posts-wrapper .widget__headline .widget__headline-text");
leftArrowCarrousel.addEventListener("click", () => { gtag('event', 'Shopping Module', { 'event_category': 'engagement', 'event_label': 'Left Arrow Click' }); });
rightArrowCarrousel.addEventListener("click", () => { gtag('event', 'Shopping Module', { 'event_category': 'engagement', 'event_label': 'Right Arrow Click' }); });
for (let button of buyButton){ button.addEventListener("click", () => { gtag('event', 'Shopping Module', { 'event_category': 'engagement', 'event_label': 'Buy button click' }); }); }
for(let image of imageShopp){ image.addEventListener("click", () => { gtag('event', 'Shopping Module', { 'event_category': 'engagement', 'event_label': 'Image click' }); }); }
for(let product of productTitle){ product.addEventListener("click", () => { gtag('event', 'Shopping Module', { 'event_category': 'engagement', 'event_label': 'Product title click' }); }); }
});
window.REBELMOUSE_ACTIVE_TASKS_QUEUE.push(function(){
window.REBELMOUSE_STDLIB.loadExternalScript("https://htlbid.com/v3/coveteur.com/htlbid.js", function() {
});
});
window.REBELMOUSE_ACTIVE_TASKS_QUEUE.push(function(){
!function(f,b,e,v,n,t,s){if(f.fbq)return;n=f.fbq=function(){n.callMethod?n.callMethod.apply(n,arguments):n.queue.push(arguments)};if(!f._fbq)f._fbq=n;n.push=n;n.loaded=!0;n.version='2.0';n.queue=[];t=b.createElement(e);t.async=!0;t.src=v;s=b.getElementsByTagName(e)[0];s.parentNode.insertBefore(t,s)}(window, document,'script','https://connect.facebook.net/en_US/fbevents.js');fbq('init', '1248680838922690');fbq('track', 'PageView');
});