In recent weeks, we've generally shifted our wardrobe choices to more casual pieces with less coverage to accommodate the newfound heat. As is the case with any form of extreme weather, it's easy to fall into a style rut. And while there is nothing whatsoever wrong with a rotation of tank tops and shorts, it's nice to jazz up your look every now and then. That doesn't necessarily entail "fancifying" your items, but rather uncovering simple style pairings to add intrigue to said informal separates.
Take, for instance, denim cutoffs. A steadfast component of most summer wardrobes, the frayed-edge denim screams casual, but it's how you wear them that can elevate the seemingly basic piece. The addition of a tailored blazer, layers of necklaces, or even an eye-catching cowboy boot helps the wearer to reimagine the casual wardrobe staple as a style essential wrought with sartorial possibilities. We've rounded up five fresh ensembles that don't forgo denim cutoffs' casual nature, but instead find relaxed ways to liven up the classic piece.
White Tank + Cowboy Boots
Right photo: Courtesy of Instagram/@watchingnewyork
A pair of loud, eye-catching cowboy boots adds instant intrigue to a simple ensemble of a white tank and denim shorts. Find ways to tie in the colors displayed on your boots with corresponding accessories.
Shop the Look: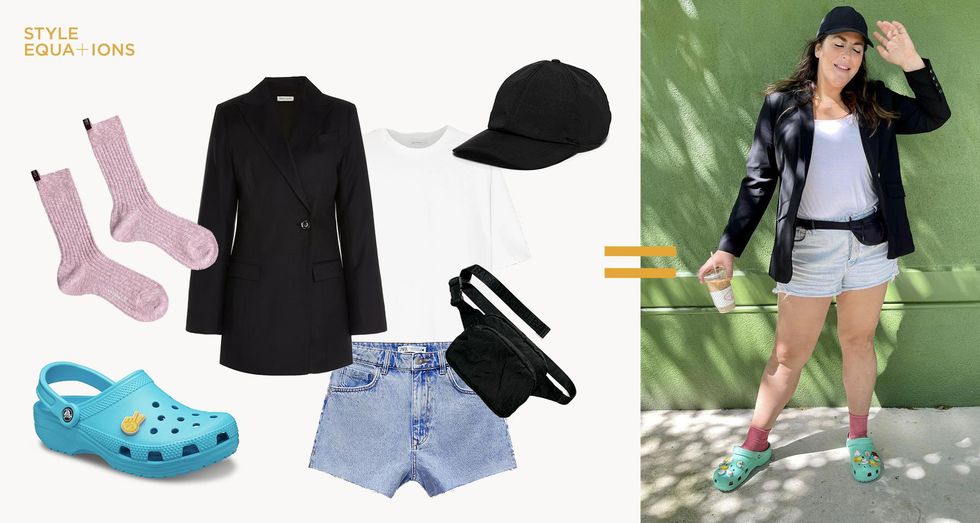 Right photo: Courtesy of Instagram/@katiesturino
Little did we know that we'd be endorsing Crocs this summer, but leave it to style maven Katie Sturino to change our mind. Use casual add-ons—the fanny pack, a t-shirt, and, of course, the Crocs—to tone down the tailored aspect of the blazer.
Shop the Look:
Bodysuit + Strappy Sandals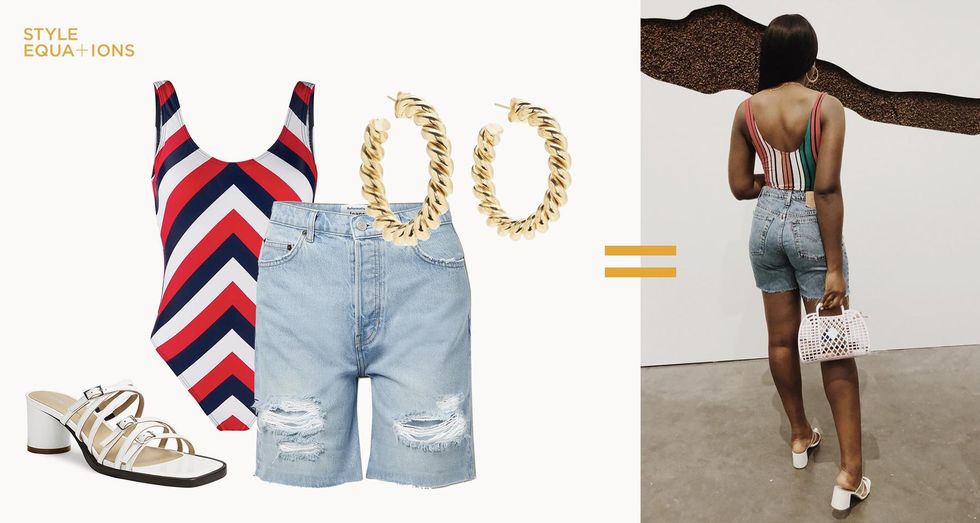 Right photo: Courtesy of Instagram/@itsreallynana
Denim cutoffs aren't just for casual strolls about town, but can be worn out at night, as well. A loud, patterned bodysuit contrasts the relaxed denim, while a heeled sandal polishes the look for an evening on the town.
Shop the Look:
Canadian Tuxedo + Patterned Shoe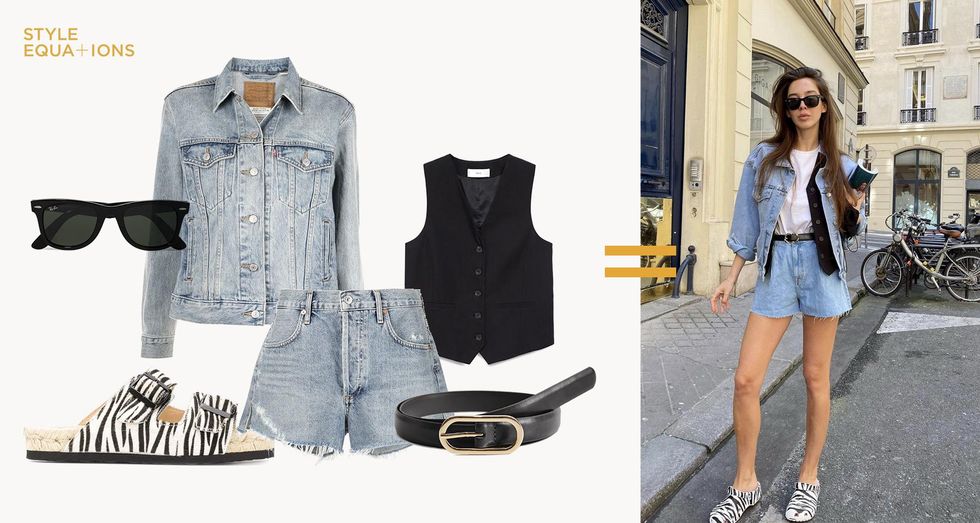 Right photo: Courtesy of Instagram/@estellechemouny
This ensemble proves the versatility of a Canadian tuxedo, as it works just as well with shorts as with pants. Break up all the denim with a white t-shirt and a vest peeking out from beneath the jacket. And of course, an animal-print shoe is never a bad option.
Shop the Look:
Oversize Shirt + Simple Accessories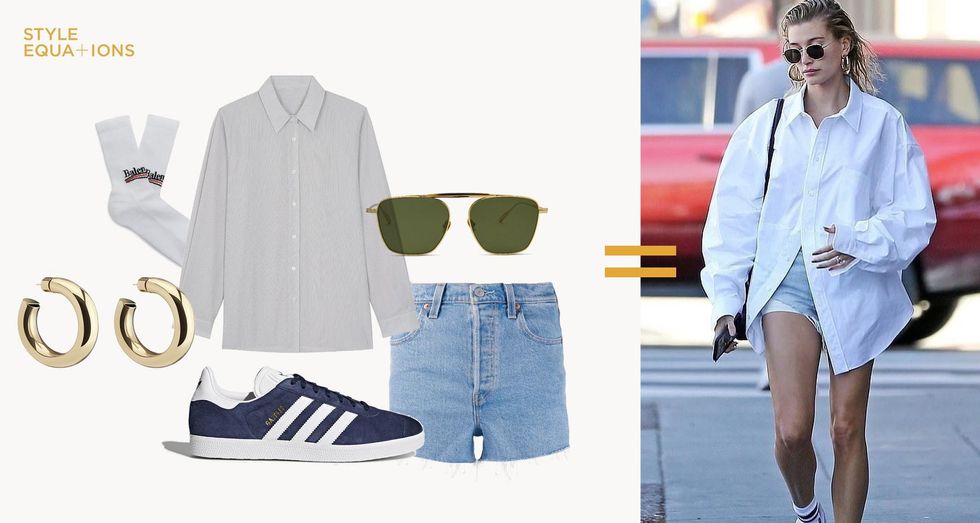 Right photo: Courtesy of Instagram/@hommegirls
When in doubt, go with the classics. In this particular ensemble, that entails an oversize button-down. Jazz up the simple pairing with classic gold jewelry, socks, and sneakers.
Shop the Look:
window.REBELMOUSE_ACTIVE_TASKS_QUEUE.push(function(){
let leftArrowCarrousel = document.querySelector(".shop-sidebar.shop-posts .posts-wrapper .slick-next"); let rightArrowCarrousel = document.querySelector(".shop-sidebar.shop-posts .posts-wrapper .slick-prev"); let imageShopp = document.querySelectorAll(".shop-sidebar.shop-posts .posts-wrapper .widget__image"); let buyButton = document.querySelectorAll(".shop-sidebar.shop-posts .posts-wrapper .widget__product-buy-link-btn"); let productTitle = document.querySelectorAll(".shop-sidebar.shop-posts .posts-wrapper .widget__headline .widget__headline-text");
leftArrowCarrousel.addEventListener("click", () => { gtag('event', 'Shopping Module', { 'event_category': 'engagement', 'event_label': 'Left Arrow Click' }); });
rightArrowCarrousel.addEventListener("click", () => { gtag('event', 'Shopping Module', { 'event_category': 'engagement', 'event_label': 'Right Arrow Click' }); });
for (let button of buyButton){ button.addEventListener("click", () => { gtag('event', 'Shopping Module', { 'event_category': 'engagement', 'event_label': 'Buy button click' }); }); }
for(let image of imageShopp){ image.addEventListener("click", () => { gtag('event', 'Shopping Module', { 'event_category': 'engagement', 'event_label': 'Image click' }); }); }
for(let product of productTitle){ product.addEventListener("click", () => { gtag('event', 'Shopping Module', { 'event_category': 'engagement', 'event_label': 'Product title click' }); }); }
});
window.REBELMOUSE_ACTIVE_TASKS_QUEUE.push(function(){
window.REBELMOUSE_STDLIB.loadExternalScript("https://htlbid.com/v3/coveteur.com/htlbid.js", function() {
});
});
window.REBELMOUSE_ACTIVE_TASKS_QUEUE.push(function(){
!function(f,b,e,v,n,t,s){if(f.fbq)return;n=f.fbq=function(){n.callMethod?n.callMethod.apply(n,arguments):n.queue.push(arguments)};if(!f._fbq)f._fbq=n;n.push=n;n.loaded=!0;n.version='2.0';n.queue=[];t=b.createElement(e);t.async=!0;t.src=v;s=b.getElementsByTagName(e)[0];s.parentNode.insertBefore(t,s)}(window, document,'script','https://connect.facebook.net/en_US/fbevents.js');fbq('init', '1248680838922690');fbq('track', 'PageView');
});