One of the fashion industry's favorite pastimes is reinterpreting subversive items, stamping them with a cool factor that may seem counterintuitive to those watching from afar but later catches on. May we draw your attention to low-rise jeans? Dad sandals? CROCS? Though all are worthy of examination, today's subject is men's undershirts. Its connotation throughout prior coverage in film and photography is not often one thought of as chic, nor is its wearer—anyone else having Sopranos flashbacks? Yet today's juggernauts of style have embraced the menswear staple by dressing it up with elevated separates. So naturally, our entire mindset has shifted.
The easy white tank is a great base layer for any ensemble. A sartorial chameleon, the wardrobe essential pairs just as well with tailored suiting as it does with monochrome denim and clogs. See evidence below.
Right photo: Courtesy of Instagram/@camillecharriere
When in doubt, go monochrome. Though if you find head-to-toe white a tad boring, add a top layer in a shocking hue like this green option. In terms of footwear, clogs are our favorite addition of the moment.
Shop the Look:
Tailored Separates + Loafers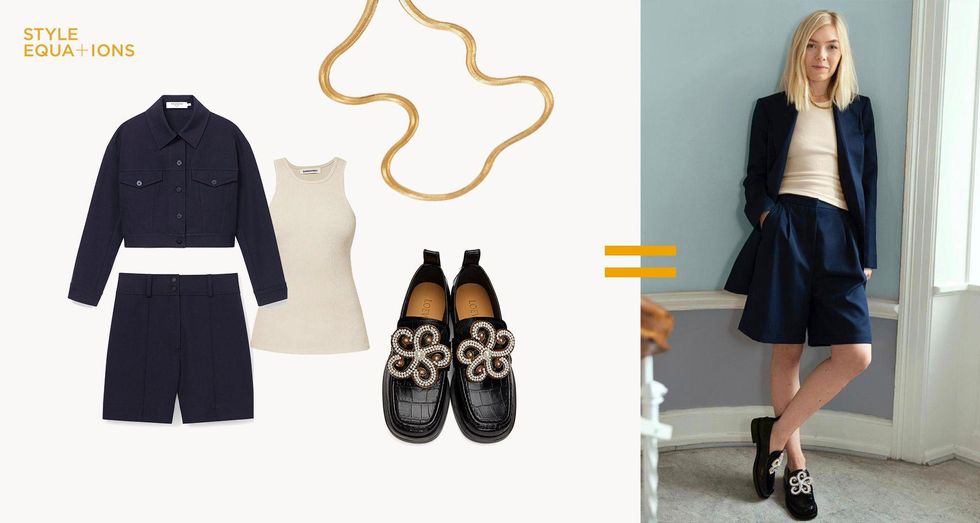 Right photo: Courtesy of Instagram/@josephineaarkrogh
If suiting intimidates you, lean into casual touches like a white tank to tone it down a bit. The addition of a flat loafer strikes the perfect style balance.
Shop the Look:
Tennis Skirt + Blazer + Heeled Sandals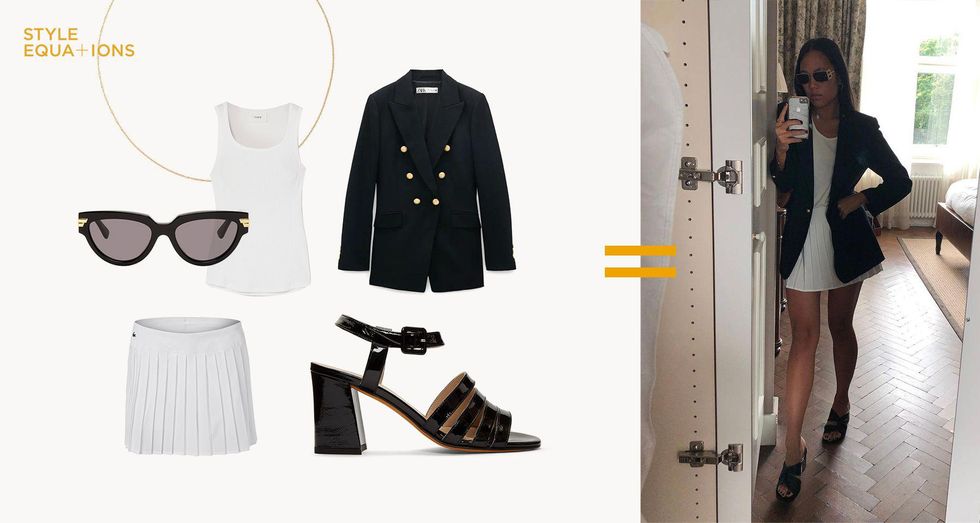 Right photo: Courtesy of Instagram/@thatgirlbeverly
Though a resurfacing trend from last year, we still plan on living in our tennis skirts this summer. Since both the skirt and tank are casual, layer a blazer overtop to polish everything up.
Shop the Look:
Animal-Print Shorts + Sweatshirt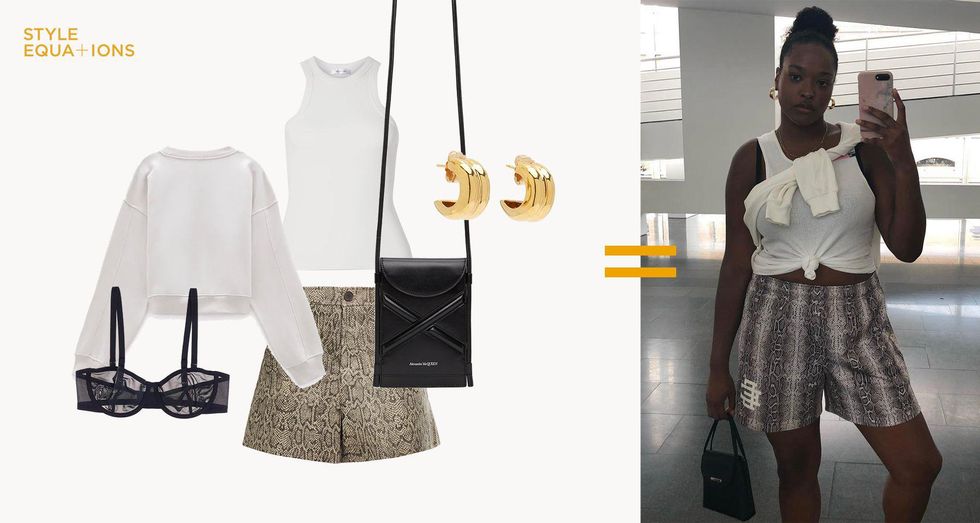 Right photo: Courtesy of Instagram/@champagnemani
As the style in question is so simple, jazz it up with a loud pair of shorts. Then drape a sweatshirt over your shoulders for a breezy finishing touch.
Shop the Look:
Short-Sleeve Button-Down + Cropped Jeans + Flats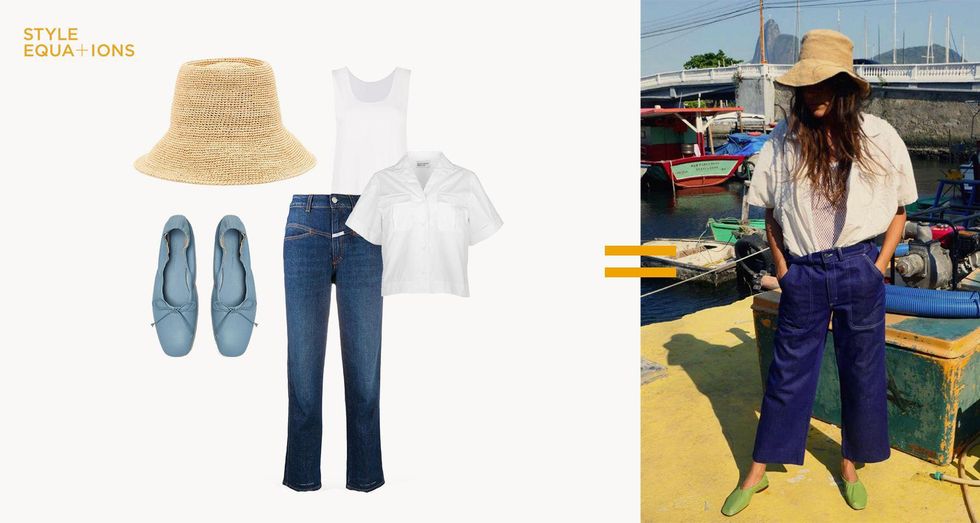 Right photo: Courtesy of Instagram/@marigiudicelli
Who says you can't layer in the summer? Though we do suggest keeping those layers light. Opt for a short-sleeve button-down and a simple pant silhouette, then dress everything up with a pair of flats.
Shop the Look:
window.REBELMOUSE_ACTIVE_TASKS_QUEUE.push(function(){
let leftArrowCarrousel = document.querySelector(".shop-sidebar.shop-posts .posts-wrapper .slick-next"); let rightArrowCarrousel = document.querySelector(".shop-sidebar.shop-posts .posts-wrapper .slick-prev"); let imageShopp = document.querySelectorAll(".shop-sidebar.shop-posts .posts-wrapper .widget__image"); let buyButton = document.querySelectorAll(".shop-sidebar.shop-posts .posts-wrapper .widget__product-buy-link-btn"); let productTitle = document.querySelectorAll(".shop-sidebar.shop-posts .posts-wrapper .widget__headline .widget__headline-text");
leftArrowCarrousel.addEventListener("click", () => { gtag('event', 'Shopping Module', { 'event_category': 'engagement', 'event_label': 'Left Arrow Click' }); });
rightArrowCarrousel.addEventListener("click", () => { gtag('event', 'Shopping Module', { 'event_category': 'engagement', 'event_label': 'Right Arrow Click' }); });
for (let button of buyButton){ button.addEventListener("click", () => { gtag('event', 'Shopping Module', { 'event_category': 'engagement', 'event_label': 'Buy button click' }); }); }
for(let image of imageShopp){ image.addEventListener("click", () => { gtag('event', 'Shopping Module', { 'event_category': 'engagement', 'event_label': 'Image click' }); }); }
for(let product of productTitle){ product.addEventListener("click", () => { gtag('event', 'Shopping Module', { 'event_category': 'engagement', 'event_label': 'Product title click' }); }); }
});
window.REBELMOUSE_ACTIVE_TASKS_QUEUE.push(function(){
window.REBELMOUSE_STDLIB.loadExternalScript("https://htlbid.com/v3/coveteur.com/htlbid.js", function() {
});
});
window.REBELMOUSE_ACTIVE_TASKS_QUEUE.push(function(){
!function(f,b,e,v,n,t,s){if(f.fbq)return;n=f.fbq=function(){n.callMethod?n.callMethod.apply(n,arguments):n.queue.push(arguments)};if(!f._fbq)f._fbq=n;n.push=n;n.loaded=!0;n.version='2.0';n.queue=[];t=b.createElement(e);t.async=!0;t.src=v;s=b.getElementsByTagName(e)[0];s.parentNode.insertBefore(t,s)}(window, document,'script','https://connect.facebook.net/en_US/fbevents.js');fbq('init', '1248680838922690');fbq('track', 'PageView');
});