For Abena Boamah, the CEO and founder of Hanahana Beauty, she'd always associated beauty with taking care of yourself. "Beauty for me was more about being clean and looking presentable," she tells me over Zoom. "Showering, using lotion, making sure you're not ashy." Even in her 20s, when Abena grew more intentional about her look, her routine still remained pretty minimal. "I never did too much. I just focus on my natural beauty shining through and using products to enhance that," she says. It's the same ethos that's behind her skin-care line: "Hanahana is all about the small things we can do for ourselves," she says. "It's not saying that you shouldn't use makeup or anything like that. Do what you want, but you should start by taking care of your skin and by taking care of your body."
Abena splits her time between Chicago and Ghana, where she sources the ingredients for her moisturizing shea butter body creams. When asked if she noticed a difference between the relationship American women had with beauty versus the relationship Ghanaian women had with beauty, Abena says that because of the internet, there's a ton of overlap when it comes to beauty trends and standards in the two countries, but at the end of day, she does feel like there's a greater focus on natural beauty in Ghana. "But I think, overall, people are being more intentional about what they put on their skin," she adds. "I think anytime Black people, especially Black women, are taking care of themselves in an intentional manner, it's a form of resistance."
Ghana's location on the coast, its relaxed way of life, and its vibrant social scene have turned several of its cities—more specifically, Accra—into a big travel destination. Below, Abena walks us through some of her favorite beauty and wellness spots, from a yoga studio to a full-service natural hair salon, the best places to grab a bite, and where you should stay once you arrive.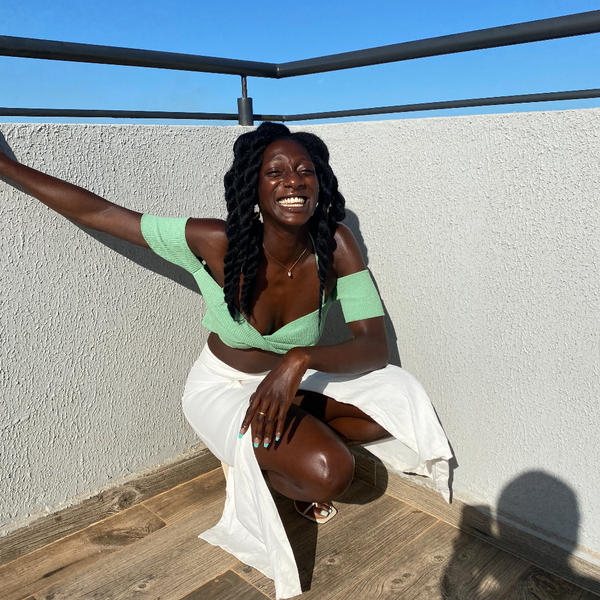 Photo: Courtesy of Abena Boamah
When Abena makes the trek to Ghana, she opts to rent fully furnished places, since she's usually there for a long period of time. If you're in the same boat, or you'd just prefer a home over a hotel, she recommends staying in Chado, a neighborhood in the capital city. "It's a bit more residential, but it's very clean," says Abena, "and has some of the yummiest local food spots, like White House. They have the best kebabs," she adds. Get a place near the beach if you can. "The breeze is so nice if you have access to a rooftop," says Abena.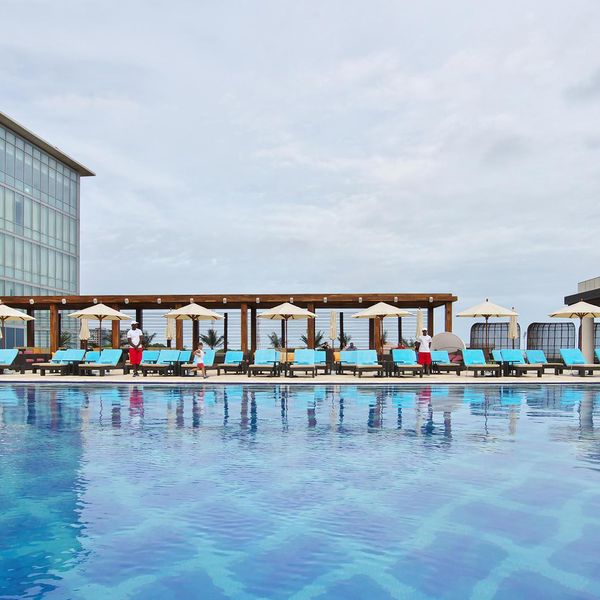 Photo: Courtesy of Kempinski Hotel
If you'd rather stay in a hotel, consider Kempinski Hotel—the five-star hotel is part of Accra's burgeoning Gold District. The luxury lodging's 269 rooms are lined with modern versions of traditional Kente cloth, and the hotel is also home to a Resense Spa, a yoga studio, and a fully equipped gym. But the real star of the show is the Instagram-worthy rooftop infinity pool that's bordered by wooden cabanas and lounge beds.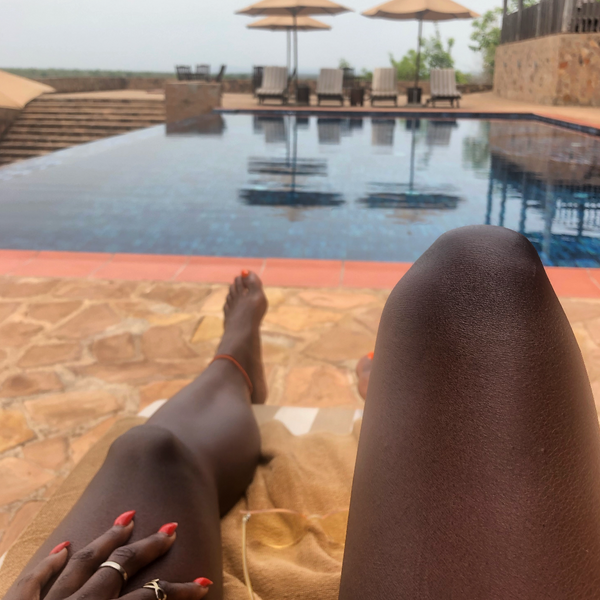 Photo: Courtesy of Abena Boamah
One of Abena's favorite places to stay in Ghana is Zaina Lodge, a Safari lodge located inside Mole National Park, the country's largest natural game reserve. It's a 45-minute flight and a short drive away from Accra, but it's well worth the trip. "It's honestly so beautiful," says Abena. "I stayed here a couple years back with my friend Siraad [Dirshe], and it was such a luxury experience." There are 25 rooms on the property, each with a private balcony, an indoor shower, and an outdoor shower. Sustainability is also emphasized at the lodge—local shea butter is used to make the soaps and lotions, it runs on LED lights, and there's a solar-powered water system.
Photo: Courtesy of Abena Boamah
This place is so great, Abena almost didn't want to spill the details: "The Scorpio in me wanted to keep it a secret," she says, "but if you get to Axim [the town where the resort is located], save up your coins and go here—the views are worth it." The lodge sits on the beachy shores of a private island surrounded by 24 acres of jungle and forest—almost every room has an ocean view, and there's a private beach for guests.
This is one of Abena's go-to spots. "Every time I'm in Accra, I get a massage from Sicily, the founder of Touch of Essence," she says. In addition to massages, the wellness center also offers facials, body scrubs, manicures, and pedicures. After your service, you can order a drink or a snack off their CBD treats menu, like a CBD-infused lemonade.
Abena's also a huge fan of Bliss Yoga. She recommends taking a class with the founder, Nana, an expat who decided to ditch a high-stress career in New York City for a happier and calmer existence in Accra. The studio offers classes in all styles of yoga, from vinyasa to hatter, as well as meditation and life-coaching sessions.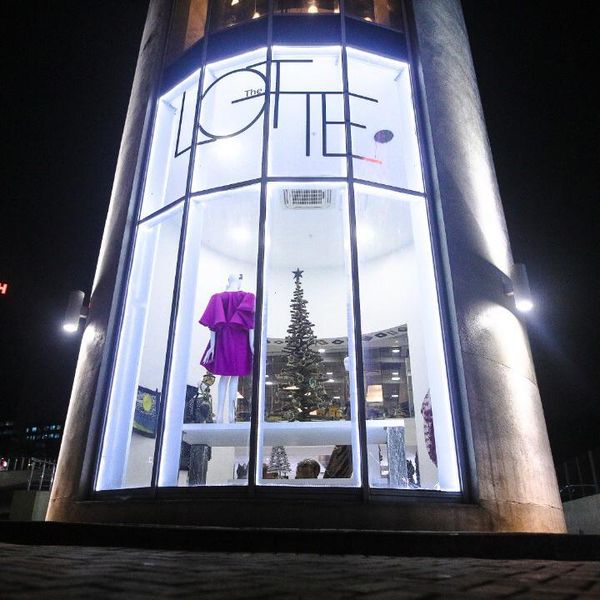 Photo: Courtesy of The Lotte
The Lotte, a highly curated shop located in Accra, is known for its inventory of luxury goods ranging from colorful clothing lines by African designers to eclectic and unique home decor. They also have a wide assortment of products from Ghanaian beauty brands—there's a rich body butter from Nokware, ultra-moisturizing face oils from R&R Luxury, and pigmented lip glosses from S.O. Aesthetic.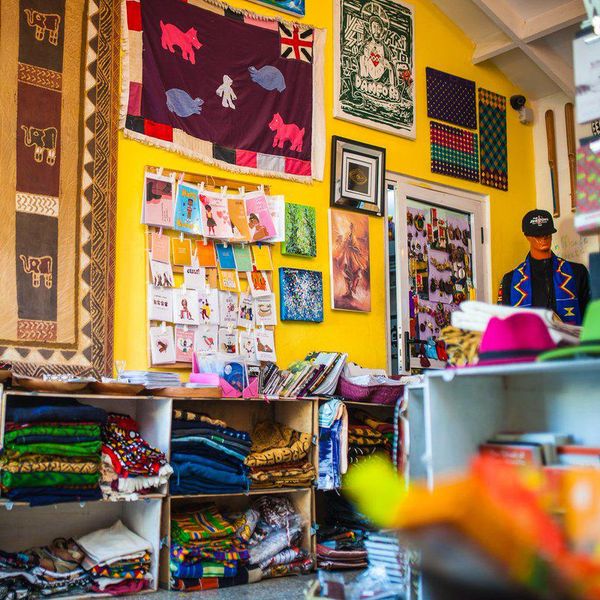 Photo: Courtesy of The Shop
Eyetsa Lorraine Ocloo was raised in Germany, but she returned to Ghana to open a store that would be more than just that—it would be a gathering place, a community center. She succeeded—it's difficult to place The Shop Accra into one single category. There are organic beauty products, like hand creams made from local shea butter, an eclectic collection of bags and clothing from designers in the area, a tiki bar, and a hairstyling salon in the back.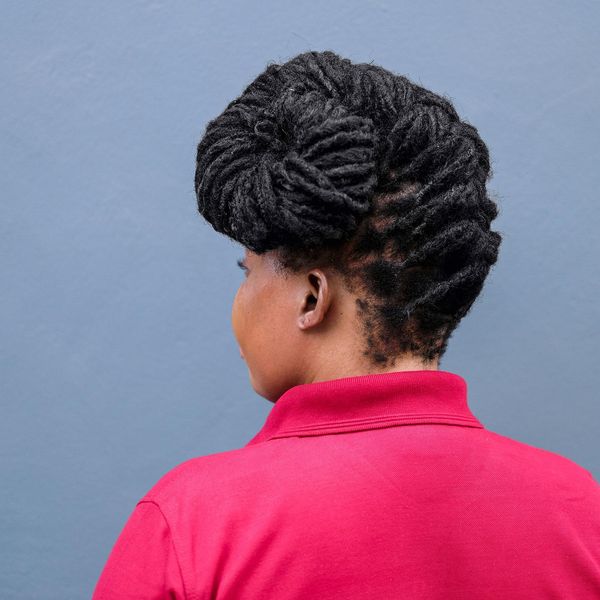 Photo: Courtesy of Twist & Locs Salon
While there's basically a hair salon on every corner in Accra, there are ones that stand out amongst the rest. Twists & Locs Salon was the first full-service natural hair salon in Ghana, offering everything from braids and twists to hair cuts and deep-conditioning treatment. And if those options weren't enough for you, there's also spa services at the salon's two locations. After you get your hair done, you can get your eyebrows threaded or opt for a quick pedicure.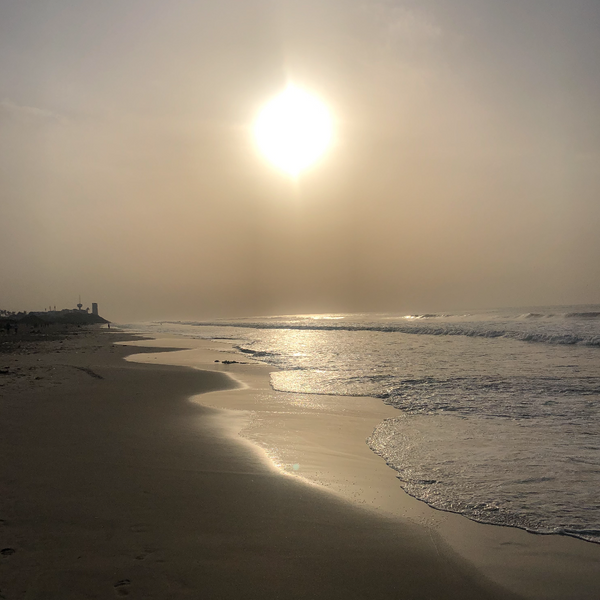 Photo: Courtesy of Abena Boamah
Come for the beach, stay for the seafood. Abena's stayed at Busua Beach Resort in the past, and part of the appeal, is Auntie Florence. She's not her actual aunt, of course, but Florence owns a restaurant that sits seaside. "Her restaurant has these beautiful green walls," says Abena, "and she makes the best grilled lobster."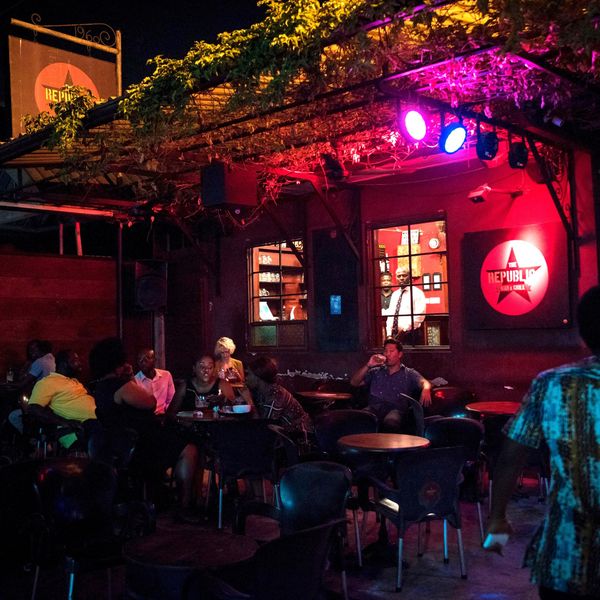 Photo: Courtesy of The Republic Bar and Grill
The Republic has a little bit of something for everyone. The bold red walls of the bar are lined with postcards and photos. Once you're inside, you can order a drink made from local alcohol, or you could head back out and lounge on the outdoor wooden deck and enjoy the live music. The food options are great too, and the menu features vegetarian dishes. "They have the best curry goat and cassava fries—so delicious," says Abena.
Photo: Courtesy of Abena Boamah
At this restaurant and sports bar, another one of Abena's favorites, you'll find traditional Ghanaian food like fufu, jollof rice with a side of meat or fish, omotuo soup, and fried plantain. The restaurant has an easy and relaxed outdoor atmosphere with a live band on the weekends. It's a chill hangout spot if you want to catch up with a friend or watch a game of football.
window.REBELMOUSE_ACTIVE_TASKS_QUEUE.push(function(){
let leftArrowCarrousel = document.querySelector(".shop-sidebar.shop-posts .posts-wrapper .slick-next"); let rightArrowCarrousel = document.querySelector(".shop-sidebar.shop-posts .posts-wrapper .slick-prev"); let imageShopp = document.querySelectorAll(".shop-sidebar.shop-posts .posts-wrapper .widget__image"); let buyButton = document.querySelectorAll(".shop-sidebar.shop-posts .posts-wrapper .widget__product-buy-link-btn"); let productTitle = document.querySelectorAll(".shop-sidebar.shop-posts .posts-wrapper .widget__headline .widget__headline-text");
leftArrowCarrousel.addEventListener("click", () => { gtag('event', 'Shopping Module', { 'event_category': 'engagement', 'event_label': 'Left Arrow Click' }); });
rightArrowCarrousel.addEventListener("click", () => { gtag('event', 'Shopping Module', { 'event_category': 'engagement', 'event_label': 'Right Arrow Click' }); });
for (let button of buyButton){ button.addEventListener("click", () => { gtag('event', 'Shopping Module', { 'event_category': 'engagement', 'event_label': 'Buy button click' }); }); }
for(let image of imageShopp){ image.addEventListener("click", () => { gtag('event', 'Shopping Module', { 'event_category': 'engagement', 'event_label': 'Image click' }); }); }
for(let product of productTitle){ product.addEventListener("click", () => { gtag('event', 'Shopping Module', { 'event_category': 'engagement', 'event_label': 'Product title click' }); }); }
});
window.REBELMOUSE_ACTIVE_TASKS_QUEUE.push(function(){
window.REBELMOUSE_STDLIB.loadExternalScript("https://htlbid.com/v3/coveteur.com/htlbid.js", function() {
});
});
window.REBELMOUSE_ACTIVE_TASKS_QUEUE.push(function(){
!function(f,b,e,v,n,t,s){if(f.fbq)return;n=f.fbq=function(){n.callMethod?n.callMethod.apply(n,arguments):n.queue.push(arguments)};if(!f._fbq)f._fbq=n;n.push=n;n.loaded=!0;n.version='2.0';n.queue=[];t=b.createElement(e);t.async=!0;t.src=v;s=b.getElementsByTagName(e)[0];s.parentNode.insertBefore(t,s)}(window, document,'script','https://connect.facebook.net/en_US/fbevents.js');fbq('init', '1248680838922690');fbq('track', 'PageView');
});