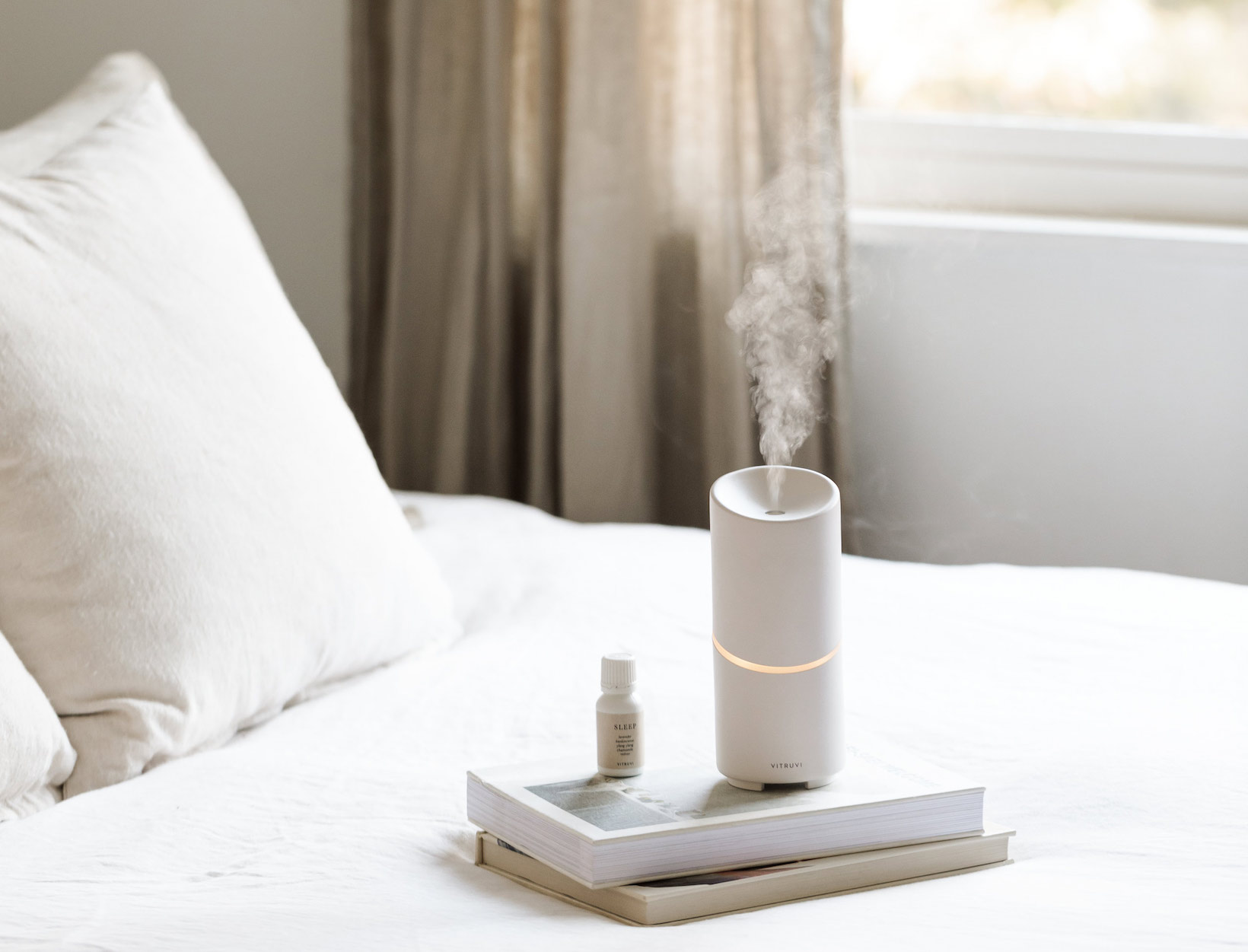 Photo courtesy of Britney Gill
Using an essential oil diffuser is fairly straightforward: Just drop in some water and oils, press go, and let it
stream the pretty scents of whatever plant you've chosen. But a recent conversation revealed to us that everyone
does it a little bit differently. One goop staffer keeps hers at her bedside to anchor her bedtime routine. Another
has hers perched on her living room mantel to mask the smell of her dog with pet-safe oils. A third keeps hers in
her bathroom as a starting signal for a heavenly morning routine. Which led us to the conclusion that perhaps our
imaginations have been slacking in the essential oil department and there are more ways than our own to put our
diffusers to good use.
The A.M. Kick-Starter
The Diffuser:
We've found that the morning routines that activate and invigorate us also tend to shuttle us around, from
the bedroom to the bathroom to the kitchen and wherever we go next. vitruvi's new Move Diffuser is the
perfect fit for mornings like those ones; it's designed to go with you almost anywhere. You charge it on a
dock—we suggest doing so overnight—and then it operates wirelessly.
The Routine:
To get the most out of your diffuser in the mornings, make it one of the first things you reach for when
you get out of bed. Pour filtered water into the basin of the Move Diffuser, drop in your essential oils,
fit the lid back on, and click the top button on the back to turn the diffuser on. To make this routine
even easier, you can prep the diffuser in the evening so all you need to do in the morning is turn it on.
Power on:
Let the Move Diffuser stream bergamot and eucalyptus as you wash up in the bathroom and get dressed. When
you relocate to the kitchen for your morning cup of coffee, simply take the diffuser off of its charging base
and bring it with you. While you're at it, fire up a playlist that hits the sweet spot between upbeat and
mellow—we've been listening to this one, which seamlessly mixes modern singer-songwriters like Lucy Dacus
and Laura Marling with Neil Young and Dolly.
Work it out:
Carry that invigorating energy into your at-home morning workout. Again, the Move Diffuser is your friend: Set it up at the top of your mat for gentler workouts or on a side table if you're down for something more active. (While the diffuser's lid doesn't slip off easily, it's not entirely knock-over-proof.) You'll appreciate the deep, essential-oil-infused breaths during Lia Bartha's thirty-minute low-impact Pilates session—just grab a mat, a stability ball or a yoga block for support, and a pair of wrist or ankle weights for an extra challenge.
Head out:
If your last stop of the day is your home office (whether that's your kitchen counter or the desk you found
room for in your living room last April), park yourself there for a peaceful morning. The fresh scent from
your diffuser? At work, it's an invitation to ease back into the present moment if you start feeling
stressed or sidetracked.
If you're headed elsewhere, good news: The Move Diffuser fits nicely in a car cupholder, and the battery is
sure to last wherever your commute takes you. (Four hours on a charge when it's constantly streaming, and
eight if you choose the intermittent option.) You can always pause a cycle, too—so it can run with you on
your way home later.
The Wind-Down
The Diffuser:
This sleek stone diffuser is our go-to model when we're hanging out in one place: It's easy on the eyes,
has a nice weight to it, and looks at home in any room. It comes in black or white, but our favorite is
the goop-exclusive French grey.
Also of note: These make great gifts. More than one goop editor has been known to keep a stockpile for
birthdays, holidays, anniversaries…
The Blend:
All of the essential oils in this blend come from the vitruvi Essentials Bundle. It comes as a boxed set
with a bottle each of calming lavender, energizing grapefruit, grounding spruce, and transporting
eucalyptus. Each of the individual oils stands alone just as well as they do all mixed together. (Again with
the gifts: This is a great one.) Here's a favorite recipe:
The Routine:
A calming nighttime ritual is less about a perfectly constructed routine and more about doing what feels
good. A solid scent story can help set the stage. Drop the blend above into your stone diffuser, then let
the aroma guide you.
Chill out:
Maybe you're getting spa vibes? Smooth on a sheet mask. Highly recommended: These legendary eye masks from Jillian Dempsey, which are soaked in hyaluronic acid and nourishing almond and camelina oils.
Settle in:
If you're looking to settle the mind for sleep, we have two suggestions. First, pop two of our Knock Me Out
chews—they're formulated with melatonin, L-tryptophan, and vitamin B6, and they taste like chocolate mint.
Second, try a little active meditation. That could mean turning your attention to your breath for a few
minutes, recognizing the rise and fall of your chest and lengthening your out breaths. Or maybe you're up
for something new, like a meditation coloring book.
We like the ones from The Coloring Method, which draw on traditional meditation practices.
The Spiritual Reset
The Diffuser:
What sets Addition Studio's Synergy Oil Burner apart from the rest of the diffusers on this list is that it
uses heat—not vibration—to fill the air with aroma. You don't use water; just drop your oils into the brass
dish up top and light the tea light below.
The Routine:
Maybe there are days where you can close your eyes and easily drop into a feeling of calm. But it might
also be true that you sometimes need a little something to shift into a meditative state. Your senses are
powerful tools here: Dive into sound, scent, taste, and touch to bring you home to your body.
Sip it:
Opt for something traditional, like a green tea or masala chai, or try an adaptogenic blend designed for
moments like this. Wylde One's Yoga in a Cup is a powdered elixir of reishi and ashwagandha, plus cinnamon,
nutmeg, peppermint, and licorice; it's a little bit oaky and a little bit spicy. Mix a sachet into hot water
or plant milk and sip away.
Move it:
After setting up your tea-light-powered oil burner, take a seat (any comfortable chair works—if you're
sitting on the ground, grab a meditation pillow to go easier on your back and hips) and gently release
tension from the body, starting by gently massaging the head, neck, and shoulders and stretching through the
upper body.
Listen in:
Binaural beats—a sound-bath-like experience that feeds different frequencies of noise through each ear—can
help drop us into meditation without guidance or effort. You can give YouTube or Spotify a quick search to
find a good one. (To save you some searching, we've been liking J.S. Epperson's Solfeggio Suite, which you
can find on most streaming services.) Slip on a pair of noise-blocking headphones, lie back, press play, and
notice how your state of mind shifts over the course of the album (or even a single song).
No Recipe Necessary
These sets from vitruvi help you set the mood without having to play chemist. They come with four essential oil blends mixed with a particular moment in mind: The Uplift Kit is perfect for everyday occasions that feel light and awake, like if you're packing a picnic or have friends coming over for dinner. (The blends are zesty, refreshing, and bright.) The Unwind Kit is geared toward grounding down. Think slow afternoons, fresh flowers, sunsets, and heads hitting pillows. Just tip a few drops into your diffuser and go about your business.
When you can't have a diffuser with you