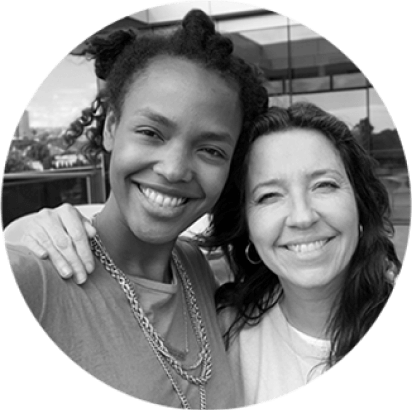 goop beauty editors Jean Godfrey-June and Megan O'Neill love to ask—and answer—questions. On their podcast, The Beauty Closet, they're doing both. To familiarize you with each week's guest, we came up with a goop beauty (and life) questionnaire.
This Week We're Talking To:
Kate Berlant and Jacqueline Novak,
comedians and cohosts of the podcast POOG
The easy assumption about POOG, the hilarious, wellness-obsessed podcast by comedians and longtime friends Kate Berlant and Jacqueline Novak, is that it's a parody or critique of goop. "We're true believers," says Berlant.
"People—fools—were like, 'Oh, are you making fun of goop, making fun of wellness?' And we're like, 'No, sweetie.' And just so everyone is clear, skin care is also wellness. We love it all."
So along with cracking up uncontrollably, goop beauty editors Jean Godfrey-June and Megan O'Neill get to talk about spa treatments, clean beauty, and homemade crystal-healing mats with the women of POOG, the podcast The New Yorker called "a laugh from inside the house that the wellness industry built" on this week's episode of The Beauty Closet.
"You're expected to hide your interest in serums in order to be taken seriously as an intellectual," says Novak, whose critically acclaimed off-Broadway show, Get on Your Knees (yes, it's about blow jobs, and it's brilliant) is going on tour this summer. The idea of POOG came up when Novak and Berlant were lounging naked in between hot- and cold-water plunges at a Korean spa. "There was the thrill of the shared obsession and just the fact of how intense this is for us," says Novak. Rather than hiding their shared fixation on serums and grain-free baking classes, the two plumb its often-hysterical depths, mixing in plenty of Jung ("We force in academic references to the point of absurdity where we can," says Berlant).
After pondering questions like "Do you get more joy out of lip-and-cheek products that you can use anywhere, or is it more about having a separate, devoted lipstick?", Berlant and Novak were more than willing to fill out our goop beauty questionnaire. And while you'll definitely laugh your way through it, as on POOG, the joke is not all piled on the much-maligned billion-dollar wellness industry. As the two of them explained to Seth Meyers: "To mock crystals is a humiliation in itself."