David Yi is the founder of Good Light, a personal care brand that believes in beauty beyond the binary, and the author of Pretty Boys (out June 22nd). We chatted with Yi about the activities and products that help him alleviate stress, the ways he brings balance back to his body, and, all around, how he continues to push the conversation forward on reimagining what beauty is today. Watch the full video below and be sure to shop his must-haves.
What activities and/or products do you love to lift your spirits and alleviate stress?
"I was born and raised in Colorado—so when I need to recalibrate and center myself, I head to the mountains alone, where I hike and think in silence. The sun's rays are potent in Colorado as our elevation is around 6,000 feet and higher in the mountains. This means that UVA/UVB rays do damage to my skin. For that, I use
Elta MD's SPF 46—my go-to and the only sunscreen I swear by! It's the product that makes me feel sunkissed and dewy, while protecting it fully. I'll do breathing exercises in the mountains, swing my arms back and forth, and allow my spirit to be freed—even just for a while."
What activities and/or products do you love to take care of your body?
"I used to be an avid Crossfitter, believe it or not. I would go all out for 20 minutes, ensuring that I try beating everyone—or at least not coming in last. Of course, being hypercompetitive (which I didn't know I was!), I threw out my lower back a couple of times. I decided to cool it and pick up pilates to regain strength in my lower body. Now that we're in quarantine and I'm not going out as much, I'll do mini stretches in my room, I'll do some yoga, and go for a run. I'm slowly making my way back to the gym and am super out of shape and sore. These days, I love
Lord Jones for not only their delicious gummies but also their serums and body products that seem to calm it from inflammation. I'm really into Charlotte's Web's Hemp-infused balm as well, and a Theragun for sore muscles."
If you have an entire day to yourself, without any responsibilities, where are you and what are you doing?
"I'm obviously somewhere lost in the mountains or lost at my local bookstore. I spend hours finding books and then reading them in stores before I opt to buy them—at the chagrin of the employees there. But I'm super picky about what I allow myself to read—and I expect others to when it comes to
Pretty Boys, when it goes on shelves this June 22nd! Other than that, I'm in the mountains, hiking, existing, and moving."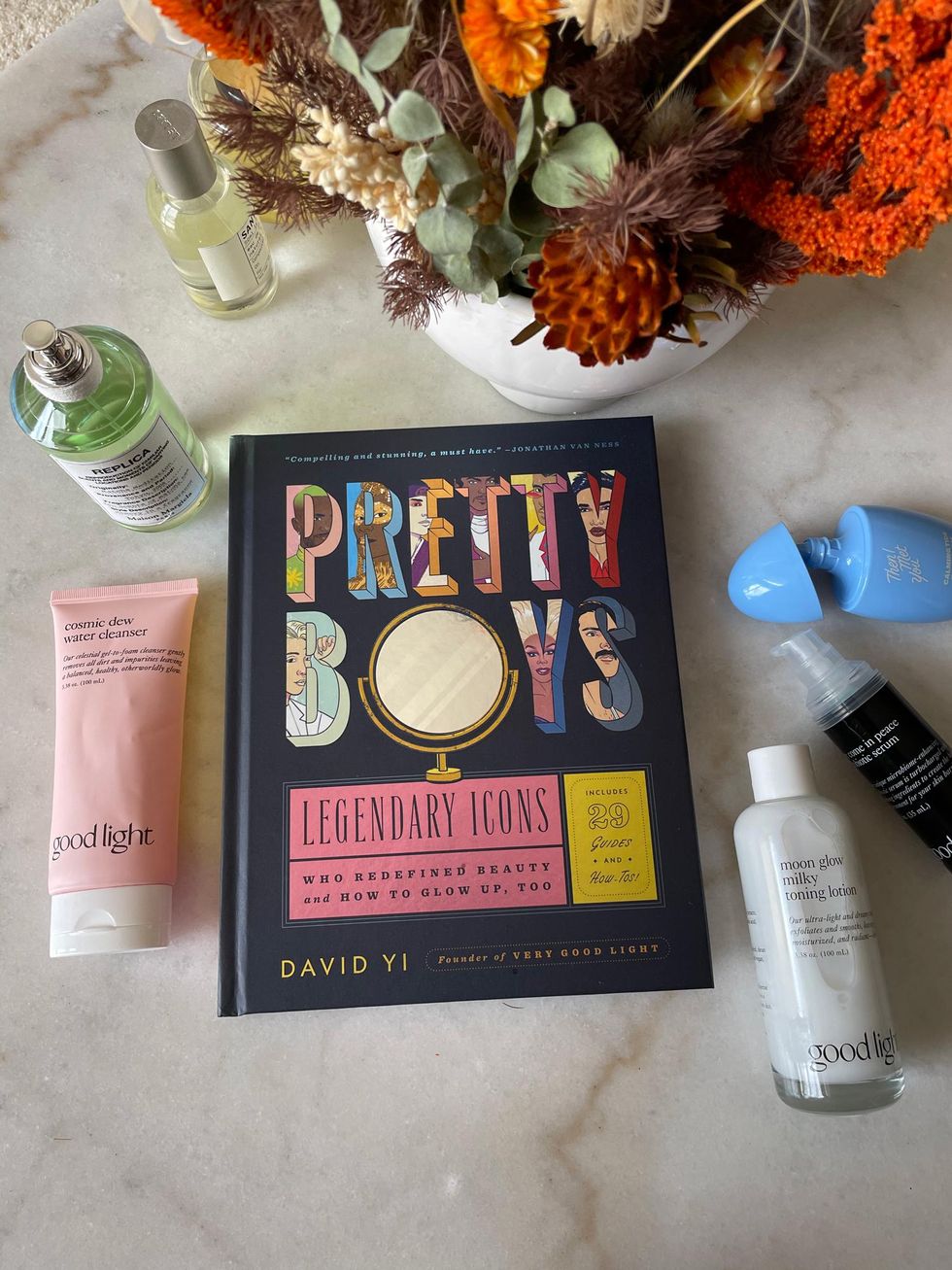 Photo: Courtesy of David Yi
What are your 5-10 must-have products for self-care and beauty?
"Crystals—from celestine, citrine, quartz—I love surrounding myself with healing stones.
"Palo Santo because you cannot clear the air enough of energies!
"Fragrances are a must to boost my mood. These days I am obsessed with
Maison Margiela Replica's Matcha Meditation and also the classic Tam Dao from Dyptique. I love the body lotion from Maison Louis Marie No. 4—so, so, so good.
"For skin, I'll use Good Light's own
Cosmic Dew Water Cleanser—it's the best gel-to-foam experience and leaves your face seriously dewy and hydrated. The glycerin protects your skin barrier function for the long term.
"I am obsessed with Good Light's beautiful
Moon Glow Milky Toning Lotion—it's so supernatural and goes on your skin with so much moisture. I cannot believe sometimes I helped birth this into the masses. My favorite!
"I love spritzing my face, and these days I really love a fine mist from Avène—their
Thermal Water Spray.
"Good Light's
We Come in Peace Probiotic Serum has done wonders for my skin. Redness is quickly dissipated, skin is recalibrated, and I feel smoother—like a baby's soft skin. I'm obsessed and swear by this!
"
Peter Thomas Roth has an amazing eye cream in the form of Hungarian Thermal Water. A lot of eye creams don't do anything—this one isn't one of those!"
Are there any special (or unusual) self-care or beauty practices that you swear by?
"I don't know if this is unusual, but I will take a 2-hour nap almost every other day. I feel I exert so much energy in work that by the end of the day my brain needs to shut down. When this happens, I go to my room, shut the door, put in ear plugs, and drown in my down comforter. It's the only way I can rest—and helps with collagen production. <3"
Shop David's Favorite Products:
window.REBELMOUSE_ACTIVE_TASKS_QUEUE.push(function(){
window.REBELMOUSE_STDLIB.loadExternalScript("https://htlbid.com/v3/coveteur.com/htlbid.js", function() {
});
});
window.REBELMOUSE_ACTIVE_TASKS_QUEUE.push(function(){
!function(f,b,e,v,n,t,s){if(f.fbq)return;n=f.fbq=function(){n.callMethod?n.callMethod.apply(n,arguments):n.queue.push(arguments)};if(!f._fbq)f._fbq=n;n.push=n;n.loaded=!0;n.version='2.0';n.queue=[];t=b.createElement(e);t.async=!0;t.src=v;s=b.getElementsByTagName(e)[0];s.parentNode.insertBefore(t,s)}(window, document,'script','https://connect.facebook.net/en_US/fbevents.js');fbq('init', '1248680838922690');fbq('track', 'PageView');
});