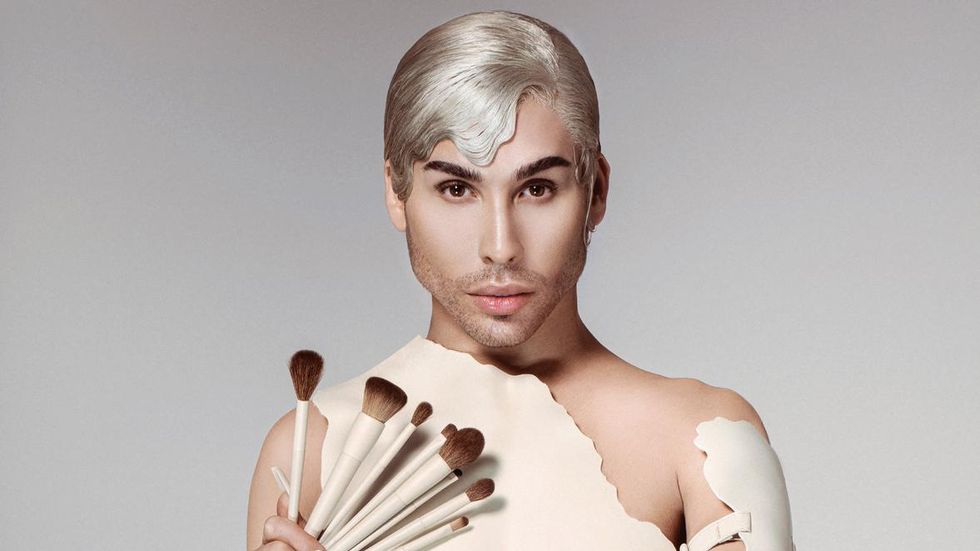 Known by his Instagram handle @makeupbyariel, Ariel Tejada has fast become one of the most sought-after makeup artists in the industry. Working closely with clients such as Kylie Jenner, Kim Kardashian, Nikita Dragun, and Shay Mitchell, his work precedes him by showcasing sophisticated and articulated beauty. With a recent signature brush collaboration with Morphe, looks published in Vogue, Harper's Bazaar, and V Magazine (to name a few), and a number of beauty campaigns under his belt from MAC Cosmetics to Kylie Cosmetics, Tejada is the artist you turn to when you want glam but elevated and re-defined makeup.
We asked Tejada to share his favorite looks for the summer, tips and techniques, and to break down what he thinks is the "look of the season."
What are your top three looks for the summer?
"I love playing with color. It brings such a vibrancy and a new level of creativity to the look, and I will always love soft glam, no matter the trend. However, my ultimate look for summer has to be a '90s-inspired, sculpted baby-doll look!"
Take us through how you'd create this look:
Step 1: Brows. "I apply the
One/size by Patrick Starrr brow pencil and then use my Morphe A19 brush to clean it up with concealer or foundation.
Step 2: Face. "I start by prepping the skin by mixing three to six drops of SOL by Jergens Deeper By the Drop into the La Mer Crème and then apply evenly all over the face and neck. I LOVE the SOL serum because you are able to customize your color to your liking. More drops mean more color. No streaking, never orange. Definitely my new obsession!
Step 3: Foundation. "If you don't want to wear foundation, you can easily just use the SOL by Jergens Deeper by the Drop to make you look luminous and summer-ready. However, I do like a bit more coverage, so I use my Morphe A24 foundation brush and apply Giorgio Armani Luminous Silk Foundation.
Step 4: Blush. "Using my Morphe A22 blush brush, I apply a small amount of Nars Orgasm Liquid Blush to the back of my hand and use the brush to apply. This will give the face that gorgeous doll-like vibe.
Step 5: Eyeshadow. "I take Patrick Ta Beauty Major Dimensions Eyeshadow Palette to create a soft bronze eye look using my Morphe A11 fluffy blending brush and A20 crease blush.
Step 6: Lips. "Finally, I line the lips using Kylie Cosmetics in shade Coconut to fill in the corners of the lips, leaving the center open for lipstick, and then apply '90's Style by KKW Beauty to create a gorgeous '90s-inspired pout."
What are your signature tips and tricks when pulling off this look?
"My signature trick would definitely have to be applying blush to the apples of the cheeks to awaken the face, bringing color and life to ANY makeup application. I like using my Morphe A19 brush to sculpt the eyebrows to give a more defined look with concealer."
Shop Tejada's Favorite Products:
window.REBELMOUSE_ACTIVE_TASKS_QUEUE.push(function(){
window.REBELMOUSE_STDLIB.loadExternalScript("https://htlbid.com/v3/coveteur.com/htlbid.js", function() {
});
});
window.REBELMOUSE_ACTIVE_TASKS_QUEUE.push(function(){
!function(f,b,e,v,n,t,s){if(f.fbq)return;n=f.fbq=function(){n.callMethod?n.callMethod.apply(n,arguments):n.queue.push(arguments)};if(!f._fbq)f._fbq=n;n.push=n;n.loaded=!0;n.version='2.0';n.queue=[];t=b.createElement(e);t.async=!0;t.src=v;s=b.getElementsByTagName(e)[0];s.parentNode.insertBefore(t,s)}(window, document,'script','https://connect.facebook.net/en_US/fbevents.js');fbq('init', '1248680838922690');fbq('track', 'PageView');
});