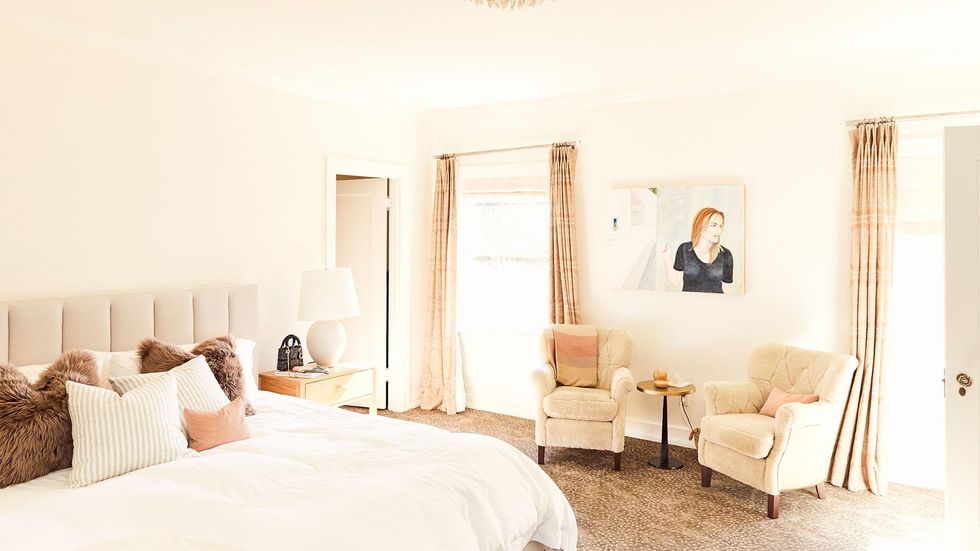 We love summer. Bright mornings, balmy afternoons, seemingly endless evenings dressed in little more than a swath of linen and sandals—it's unparalleled. What we don't love is a muggy bedroom. In fact, gliding into an icy apartment at the end of a hot summer's day is precisely what we're after for the months of June through September, and unless you live in a home with central air conditioning, you're going to need a few beat-the-heat strategies.
Sure, low-fi approaches like sleeping with a frozen water bottle under your neck or creating a cross-draft in your apartment by opening opposing windows are classics for a reason. But you probably need something slightly more elegant that will last for many summers to come (think breathable bedding and heat-blocking curtains). With summer in full swing and its accompanying steamy temperatures only going up from here, allow us to acquaint you with a few ideas for ensuring you're well rested all scorcher season long.
Swap Out Your Bedding
We'll start with the most obvious one: bedding. If you're shimmying your body under a pile of wool-blend sheets or a toasty duvet every night—halt. It's time to order yourself a cotton or linen bedding set. A top pick is Parachute's linen fabrication that's crafted from pure European flax and gets better with time, but any breathable, lightweight textile should do the trick.
Invest In a Cooling System
OK, yes, you probably could have guessed that an AC unit or fan are also helpful tools for keeping your bedroom cool, but if you're the kind of person who says they'll pick a fan up "this weekend" (fast forward to Labor Day and you still have yet to pick up said fan), let this be your motivation.
Stage Some Plants
Your houseplants aren't just good for staging a nice photo op, they're also effective at cooling down a room by the process of transpiration. One researcher suggested plants could decrease a room's temperature by up to 10 degrees. What are you waiting for? Indulge your green thumb.
Go for Heavier Drapes
Listen, we love a sheer white curtain as much as the next person, but when it comes to keeping your bedroom cool, we're siding with team opaque. When you opt for heavier drapes, you also block out light and heat, creating a cool and tranquil sanctuary.
Switch Your Light Bulbs
As you're aware, LED light bulbs are highly efficient and thus less energy is converted into heat. While this is a small-potatoes kind of beat-the-heat strategy, it doesn't hurt to swap out your bulbs for ones that not only give off less warmth, but are also better for the environment. They'll also lower your energy bill each month—a noteworthy bonus.
Rest on Cooling Pillows
Did you know there was such a thing as a cooling pillow? It's true. Mattress pads, too (more on that below). Buzzy brand Slumber Cloud has a classic cotton cover that's crafted with technology developed for NASA, which fights off heat throughout the night, while Allswell offers a cooling gel layer for similar effects.
…And Cooling Mattress Pads, Too
If you're an especially hot sleeper or simply need a supremely cool setup, splurge on a mattress pad that'll regulate your temperature all night long. Some products, like the Chilisleep below, even have options for couples sleeping in the same bed who want different temperatures.
window.REBELMOUSE_ACTIVE_TASKS_QUEUE.push(function(){
window.REBELMOUSE_STDLIB.loadExternalScript("https://htlbid.com/v3/coveteur.com/htlbid.js", function() {
});
});
window.REBELMOUSE_ACTIVE_TASKS_QUEUE.push(function(){
!function(f,b,e,v,n,t,s){if(f.fbq)return;n=f.fbq=function(){n.callMethod?n.callMethod.apply(n,arguments):n.queue.push(arguments)};if(!f._fbq)f._fbq=n;n.push=n;n.loaded=!0;n.version='2.0';n.queue=[];t=b.createElement(e);t.async=!0;t.src=v;s=b.getElementsByTagName(e)[0];s.parentNode.insertBefore(t,s)}(window, document,'script','https://connect.facebook.net/en_US/fbevents.js');fbq('init', '1248680838922690');fbq('track', 'PageView');
});