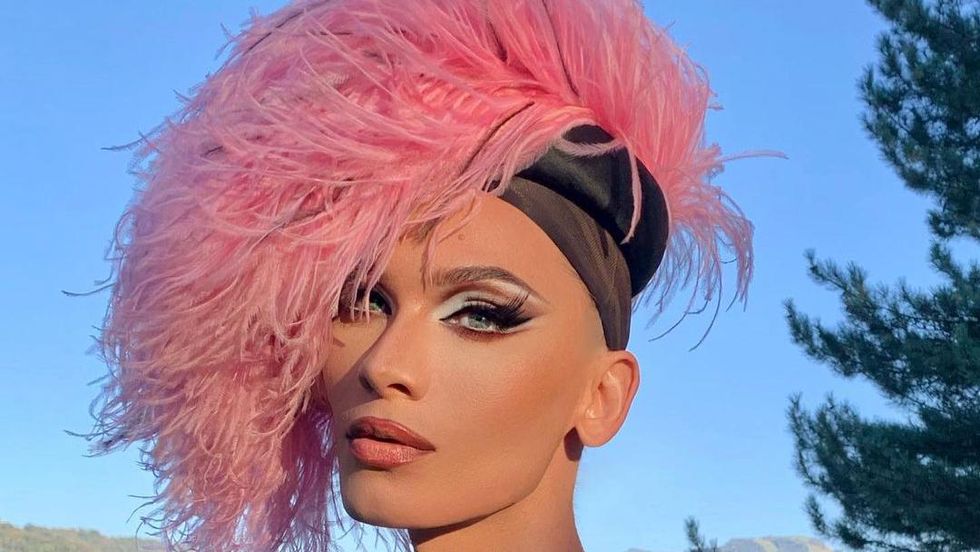 From the moment I see Miss Fame's slightly pixelated face across my computer screen, I know one thing for certain: I'm extremely underdressed for this meeting. While I'm in my humble New York City apartment in a tangled bun and a T-shirt that's living beyond its years, the gender-nonbinary drag superstar-turned-model is donning a Patrick Church leather patchwork jacket and a bag that they note was a gift from Dior and Fendi patriarch Kim Jones. Their eyebrows are arched and fluffed perfectly symmetrically, skin radiant and dewy, and my lax look pales in comparison to their curated ensemble—so I leave my camera off the entire conversation.
Yes, Miss Fame's sense of fashion and beauty is intimidatingly impeccable, but their true beauty comes from their true mission: shining a spotlight on the LGBTQIA+ community that's so bright, acknowledging it is unavoidable.
"Right now we're really finding a time to find the beauty from community and working as a union to make sure that people feel seen and heard," Miss Fame tells Coveteur. "I hope that through my platform, people are able to use my message and my image as a point of elevation; I want people to dream, to believe, and have hope to never feel limited because of who we are."
The RuPaul's Drag Race graduate is putting up a fight for queer rights through every front row they've graced in full drag, including (but definitely not limited to) Miu Miu, Jean Paul Gaultier, Maison Margiela, Mugler, Kenzo, and Viktor&Rolf. Miss Fame has been working with the latter fashion and fragrance house for quite some time and has recently partnered with the label for their latest Pride month campaign, "Free to Love, Free to Be Me," which has been crafted in conjunction with GLAAD. On top of working together to feature short films created by high-profile LGBTQ+ activists and content creators, Viktor&Rolf will also be making a financial contribution to support the LGBTQIA+ organization's mission, which is also near and dear to Miss Fame.
"For [Viktor&Rolf] to seal the deal and say, 'Hey, we want to put a campaign towards you to build your life,' when people like myself get work like this, it helps me to build my future," they say. "I'm an artist. I come from very humble beginnings. I grew up on a farm. There's no secret family member that's paying for my dream. I fought for my dream and I worked for everything I have. And I love to see that for other LGBTQIA+ people working in the beauty industry, getting opportunities, and then seeing them continue to work within those brands and houses."
Below, we chat further with Miss Fame on their rise to the top of the fashion totem pole, the true meaning of Pride Month, and more.
You're an ambassador for one of the biggest fragrance houses in the world, and you have your own beauty line. What was your journey with beauty like overall to get to this point?
"It's a lot of work to find yourself in an industry that is so saturated. There's so many things happening and it's at a very high pace. So how do you create something that is going to be innovative? For me, going into the beauty space was about the messaging, about who I wanted to speak to. It's really about tapping into my relationship within my own realm, which is gender fluidity and gender nonconformity. I was speaking to my community and I wanted to use my platform to reach people. I want beauty to mean something.
"I'm still figuring so much out in regards to my identity. I've got so much more to learn, and I look forward to it because I'm constantly evolving and I'm learning as time is passing. And as the times come, it's a beautiful thing.
"[As for] Viktor&Rolf, this is a brand that really encompasses me. They really celebrate me. They've allowed and welcomed me to not only sit at their table, but to have a point of authority by extending a contract to me."
What do you first think of when you hear the word beauty?
"You can go towards it being a feeling; it could be what you feel and those moments in life that you feel beautiful because of the amount of energy and effort and when you get to feel seen. So that means when I work with some of my team—which are my friends—we put all of our energy into creating a moment. And in that moment, I feel it's not just the fact that the image looks beautiful because it's curated from a team of experts. It's the fact that people took time to really hold space for me and I for them. That, to me, is so deeply beautiful because when somebody allows you to be authentically you, when somebody that you love really sees you for who you are and allows you to just be as big and bold and beautiful and brilliant as you can be, that is beauty. The essence of beauty is when people get what you're doing and they celebrate it. So yes, it's about the composition and it's about the effort going toward it. But really it's about the feeling of community celebrating individuality and the authenticity of the person. That's beautiful."
You're a fashion legend now. With that being said, who are some beauty and fashion legends that inspire you?
"I've recently been texting with Kristen McMenamy on the regular, and she's one of those very unique nineties supermodels that was really going to be any identity. She beats to her own drum. She really represented being oddly, unconventionally beautiful. She was like dirty couture. I look at somebody like that, and I love that she's never conformed and she still doesn't conform, she's still authentically her. That's just the person who's within my industry who I look up to still, forever and always, [as well as] Linda Evangelista and Naomi Campbell. They're legends, these are the people that really formed glamour.
"Carine Roitfeld [is another inspiration]; she welcomed me with open arms. We had a great time sitting front row at different shows and laughing and just really celebrating life and individuality and Victor&Rolf. These are people that are a part of the community that are celebrating the [LGBTQIA+] community by bringing somebody like myself, putting me in that front row, and allowing me to really see and get to form my expert opinion on fashion by witnessing the show firsthand."
What are some of your favorite beauty or style trends of the moment?
"To be really honest with you, I've never paid attention to trends at all. I've always just kind of gone off my intuition regarding beauty. And, of course, I get to see what's happening in fashion from being at the front rows, and I get a little inside scoop—sometimes certain designers DM collections in advance. So I'm very grateful for the fact that I've been able to witness this. I usually base my personal style off of what I'm feeling at the moment. I'm noticing now that I'm starting to acquire a nice little collection of gifts from certain fashion houses, and it's really helping me to create my identity within fashion. So my day-to-day style like today, I'm a little bit more eclectic. And then for Miss Fame, when I'm really leaning into my femme, I love anything with a waist. Trench coats are my best friend for eternity, because I can make a waistline and I love a waistline, unless I'm going for a really oversize look.
"I'm still loving short blond hair. I'm still loving classic nineties makeup. I'm loving less foundation on the skin, I think that's really nice. And also, [I love] playing with fragrance. I have the full Viktor&Rolf fragrance collection, so I'm sitting here and I'm able to adjust from a masculine scent to a feminine scent. If there is a gender attachment to fragrance, well, let's strip that away. I'm just loving all of it, I get to play and have a good time. I'm using Viktor&Rolf's Spicebomb a lot lately."
Why did you decide to partner with Viktor&Rolf?
"Because it's Pride Month, a lot of brands get ready to say, 'We got to look right, and we're going to hop in and we're going to start paying spokesmodels that embody Pride Month. So we're going to be looking for LGBTQIA+ individuals because it's the right thing to do.' Yes, it is the right thing to do; they should be hiring LGBTQIA+ individuals, but I also don't think they should be excluded solely to the month of Pride. I think that we should be looking at beauty and saying, 'I love what you stand for. You really embody our brand as a whole.' When I look at Viktor&Rolf, it was the next indicated step for us. We've already established a working relationship, kind of a professional and respectful relationship of admiration."
What does Pride mean to you now that we're able to celebrate in real life again?
"Pride is about rediscovering what truly matters. I think it's about core values, about really going inside myself and then thinking about how I can be a better person on this planet. And specifically within my community, to have a platform is not just to be 'Oh, how great, I have a verified Instagram account.' What does that really mean? It doesn't mean anything. Honestly, if all of this was taken away from me, I'd hope that deep down inside, I could say that my intention was always based on love, unity, support, and strength. And also knowing that there's enough for everybody to win. I think that we should never feel the fear of scarcity that we just can't. We could really benefit from being in unison and really saying, 'Hey, I'm with you, I see you, and I celebrate your win.' Pride is just about being introspective. [It's about] celebrating and elevating unity between each other, but within myself as well."
How can we all be more impactful in leading positive change for the LGBTQIA+ community?
"I think having conversations is the first step in order for us to really bridge the gap of question and judgment. I think that judgment comes from misinformation or education; you're educated to hate, that's a fact. People learn how to hate by conditioning from family or religion, et cetera. I will say our backgrounds affect us. I wasn't raised in the most nurturing of environments, I didn't have all the support. People didn't fully get me and I wasn't always safe. And as an adult, I've really worked on building a healing within myself through any means necessary because I'm fighting for my life every day inside myself. I'm healing old wounds that are so deep and so significant that just existing is a form of protest.
"Every time I get myself ready and I go out to any fashion front row or any campaign or any posts, anytime I'm seen in real life with my makeup on is a form of protest. Somebody is going to notice me, and some people won't appreciate what I'm doing. They might say something that's harmful, and that's the risk, but I'm willing to take that risk because being visible is one of the most profound things that I've ever done for myself.
"I have learned compassion, and I've learned how to dream even beyond dark days. It's given me so much courage and it's given me so much strength, even though a lot of times I lacked self-esteem, and I know people would say that doesn't make sense. I'm always working to improve that internal relationship, because it helps me to listen to other people's struggle and say, 'Oh, I totally hear what they're saying and what they, what they're asking for.' I want to be the best ally possible. I want to be a better brother and sister or whomever, whatever the title of gender, our identity. If somebody sees me and says, 'You are so safe to me,' that makes me feel like I'm doing my job correctly. I want somebody to feel safe when they see me and say, 'Miss Fame, you provided the sanctuary when I never had that before.'"
How are you celebrating Pride this month and beyond?
"I'm going to continue doing as I do. I'm going to create, I'm going to dig inside my soul and try my best to connect to my inner artist to make really impactful, creative contributions. Art has always been my savior, it allowed me to escape when I was sad. And then when I felt unloved, art was my way to show people what I was capable of. And through that, I gained a lot of admiration. People gave me so much love when they saw me creating as a child. So I found what worked for me. I think finding what works for me today allows me to hold space for the present so that I can listen to what I'm feeling.
"The next step would be stepping out into the world. We're moving forward into this next chapter of healing where fashion weeks will happen again and I get to see and hug people, and I look forward to that. I'm a very, very in-person person. I like contact. I like hugs and kisses and eye contact and hands holding and all of that good stuff. So I think this is a great moment to return to our inner humanitarians and think about how people feel and what we've all gone through individually. This is Pride, yes, and it matters that we're really leaning in to our support within our LGBTQIA+ community. I'm just really looking forward to living my authentic truth, being surrounded by friends, and being able to give them love in return for getting through this tough time that we've all faced."
window.REBELMOUSE_ACTIVE_TASKS_QUEUE.push(function(){
window.REBELMOUSE_STDLIB.loadExternalScript("https://htlbid.com/v3/coveteur.com/htlbid.js", function() {
});
});
window.REBELMOUSE_ACTIVE_TASKS_QUEUE.push(function(){
!function(f,b,e,v,n,t,s){if(f.fbq)return;n=f.fbq=function(){n.callMethod?n.callMethod.apply(n,arguments):n.queue.push(arguments)};if(!f._fbq)f._fbq=n;n.push=n;n.loaded=!0;n.version='2.0';n.queue=[];t=b.createElement(e);t.async=!0;t.src=v;s=b.getElementsByTagName(e)[0];s.parentNode.insertBefore(t,s)}(window, document,'script','https://connect.facebook.net/en_US/fbevents.js');fbq('init', '1248680838922690');fbq('track', 'PageView');
});