Yesterday, we woke up and realized (with delight) that we had an entire Sunday stretching before us with nothing on the agenda. It was grey and hazy in Malibu, so we decided to hop in the car and drive an hour up the coast to Santa Barbara. As a Texan, I haven't gotten used to the fact that we can spontaneously drive an hour or two to countless beautiful places and be home in time for dinner. Ojai, Santa Ynez, Laguna, even Palm Springs? California feels like our weekend playground and I am here for it.
Anyway, once we hit Montecito, we had the best time exploring the town, strolling Butterfly Beach, and most of all, hitting up a pizza spot I'd been hearing about called Bettina, which serves wood-fired Neopolitan-style pizza, along with salads and sides piled high with fresh California produce. It was hard to choose between the margherita or the pepperoni with Ojai wildflower honey, the truffled cheese and maitake mushrooms or the caramelized onion with sausage and castelvetrano olives. Once we placed our order, I couldn't resist folding up one of the menus and stashing it in my purse (calm down, it was a paper menu!)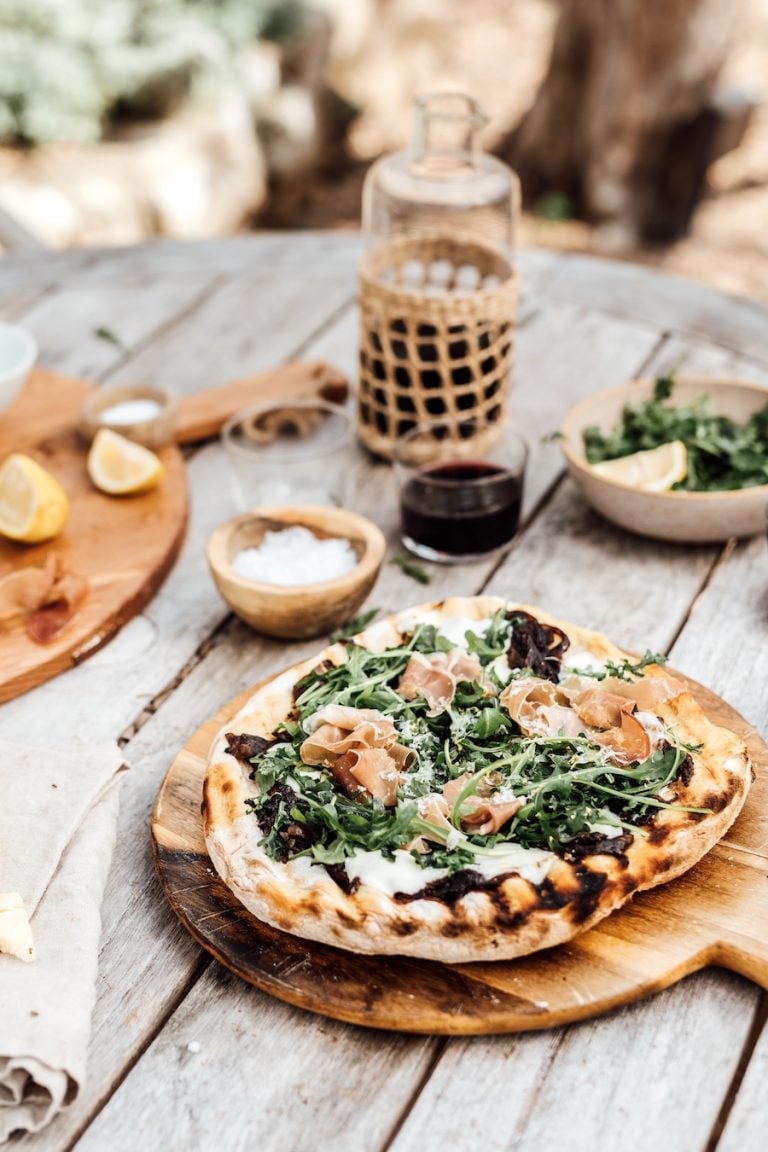 You see, as much as I love an incredible charred pizza dough, equally important in my quest for the perfect pizza is uncovering those topping combinations that magically come together as so much more than the sum of their parts. Often they're simple–it's hard to beat a great margherita with fresh tomatoes and really good mozzarella–but other times it's a surprising combination of sweet and salty, fresh and briny that leaves you sighing with pleasure and wanting more. Which is exactly what happens when eating my Caramelized Onion and Prosciutto Pizza with Arugula, a pizza I've been making and loving since 2010. (Is that the tagline to my new pizza restaurant? Hmm…) Let's get into it.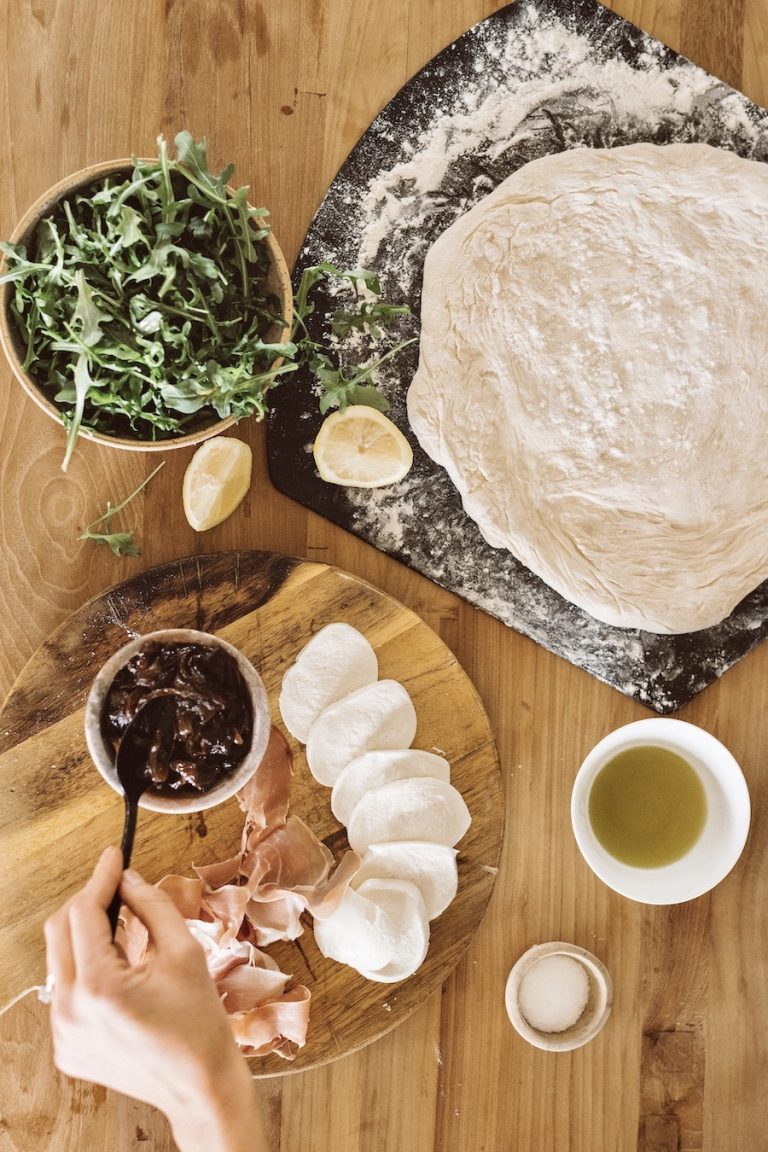 The Caramelized Onion Sauce
Sweet, caramelized onions that cook down for a full hour are the secret behind this incredible pizza. And once you realize how simple and delicious caramelized onions are to make, you just might start doubling your batch so you have some stored at all times in a mason jar in the fridge. I like to have them on hand for spreading on toast, scooping into pasta, or using as the base sauce for this caramelized onion and prosciutto pizza.
The secret to perfect caramelized onions is patience. You add the thinly sliced onions to a sauté pan with a teaspoon each of salt and sugar, plus a pinch of thyme and a splash of balsamic, then cook over low heat for at least an hour. You can always add a splash of water to the pan if they start to dry out. You know your caramelized onions are done when they're golden browny and jammy. The only hard part is not eating them all straight out of the pan with a spoon.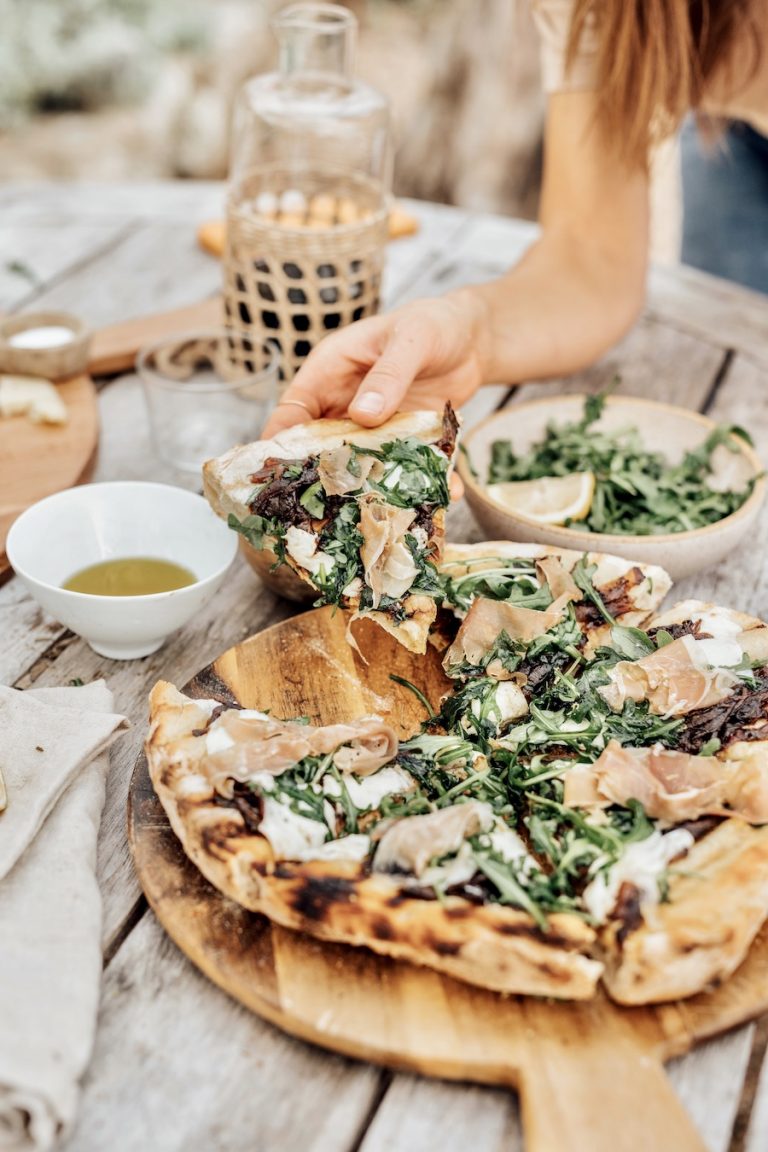 The Mozzarella
For this pizza, I like to use a creamy, fresh mozzarella–you can either tear it with your hands or slice it thinly to lay down and melt right over the onions. If all you've got is the pre-shredded mozz, totally fine. Just add a thin layer that'll get melty, and it'll still be super delish.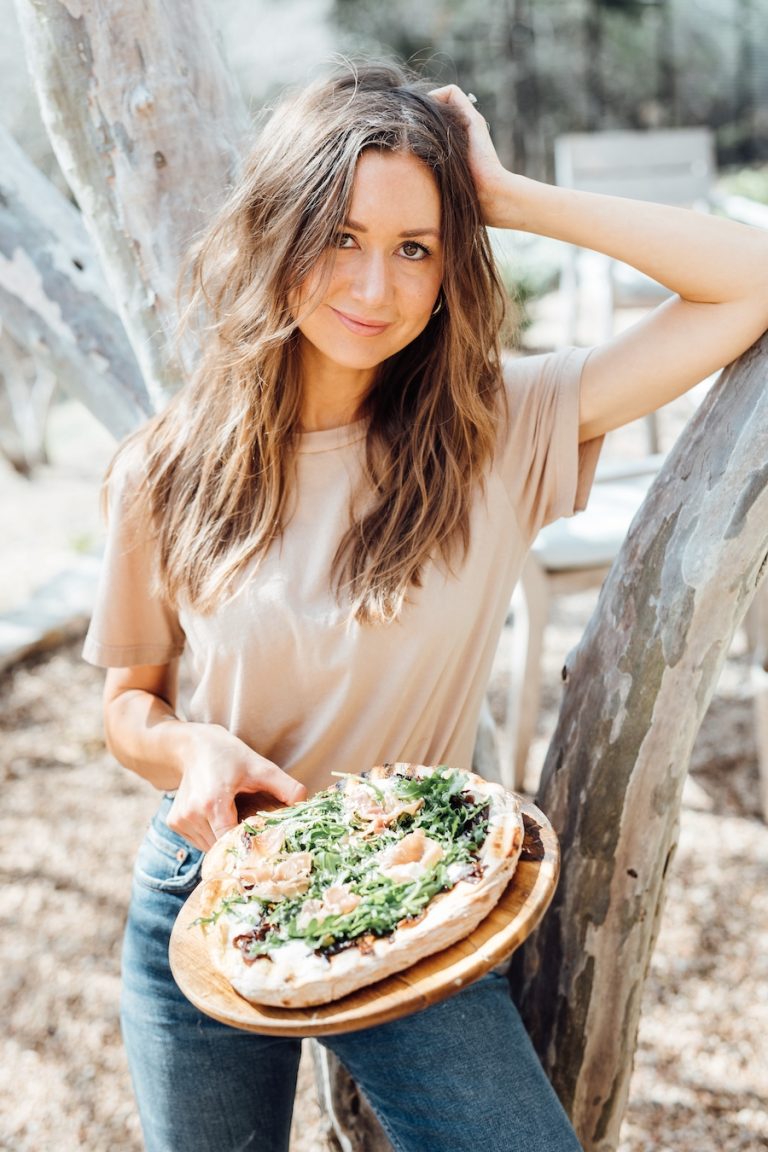 How to Perfectly Grill a Pizza
I learned this technique for how to grill a pizza when I attended a "culinary bootcamp" at the CIA in Napa Valley several years ago. Our chef instructor gave us the rundown on how to get that charred crispy crust even if you don't have a pizza oven by using your grill, and I've been making it this way ever since.
The secret lies in preparing a two-sided grill, meaning you heat one side up to the highest possible heat, while keeping the other side of the grill on low. The goal is to use the high heat side to get the char, and then move it to the low heat side to fully cook the pizza and melt your cheese without burning up the entire thing.
The recipe card below explains how it's done, but even easier is watching it in action: check out my video on IGTV here (I'll be posting it tonight!)
One other tip to perfectly grilling a pizza is to keep the lid of the grill closed as much as possible. This means working quickly when putting the pizza on the grill, and also when adding your toppings. When the lid to the grill is closed, it creates convection heat that more closely simulates the type of heat you'd get in a pizza oven. Which in laymen's terms simply means YUM.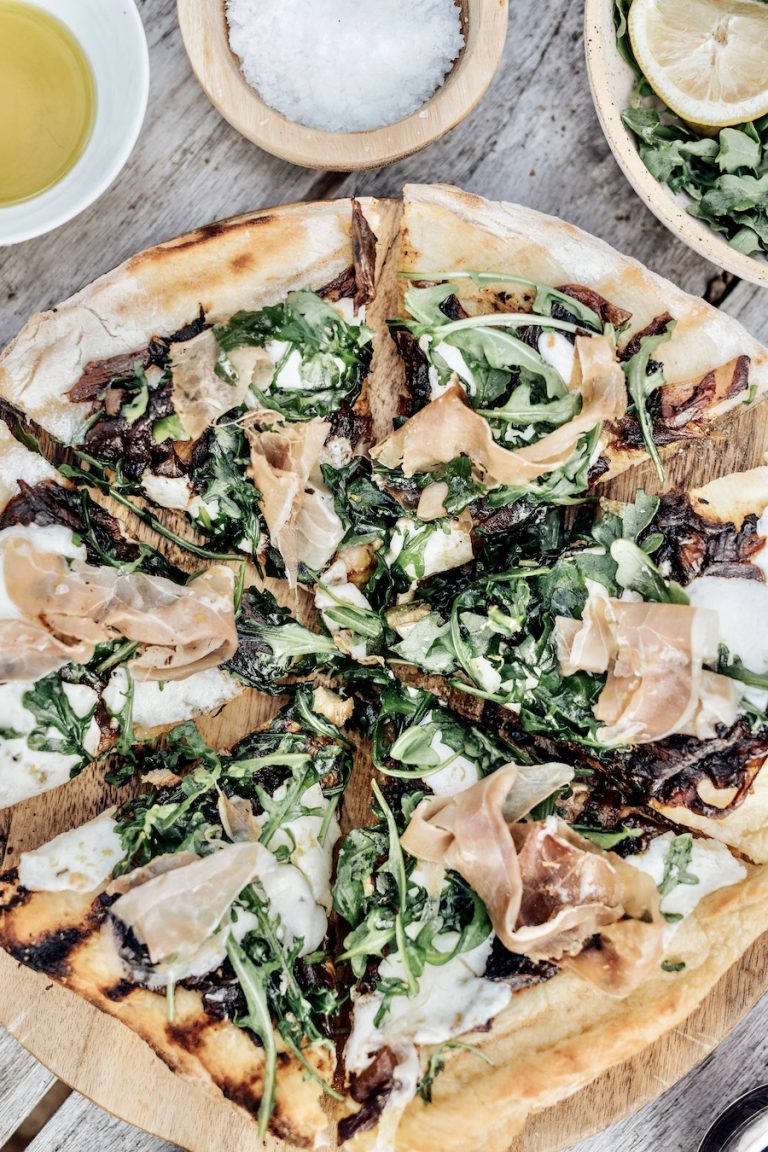 Finish with Freshness
When I make a pizza that includes ingredients on the richer side (as in, caramelized onions, mozzarella, and prosicutto), I've got to balance it out with zingy, bright raw ingredients added right at the end. After adding handfuls of arugula and ribbons of thinly sliced proscuitto (I prefer adding prosciutto after cooking, since it can get a bit "gamey" in flavor when cooked), I add a squeeze of lemon and some lemon zest, plus some freshly grated parmesan and one more drizzle of EVOO.
I've really got nothing else to say about this pizza other than: it's perfect! If you don't have a grill or would rather make this one indoors, hop right over here for my method to baking your pizza in the oven (as well as my equally drool-worthy spinach and ricotta pizza recipe.) And if you're looking for my foolproof homemade pizza dough recipe, find it here!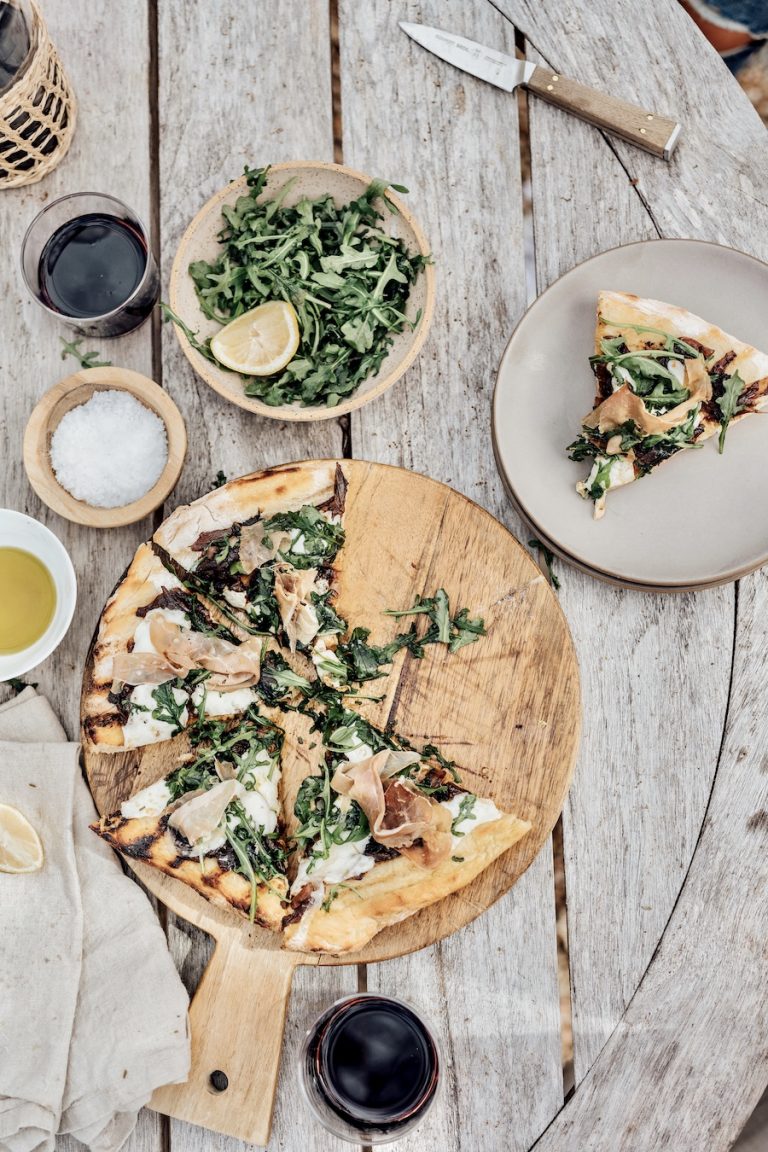 Scroll on for the recipe for this Caramelized Onion and Prosciutto Pizza with Arugula…