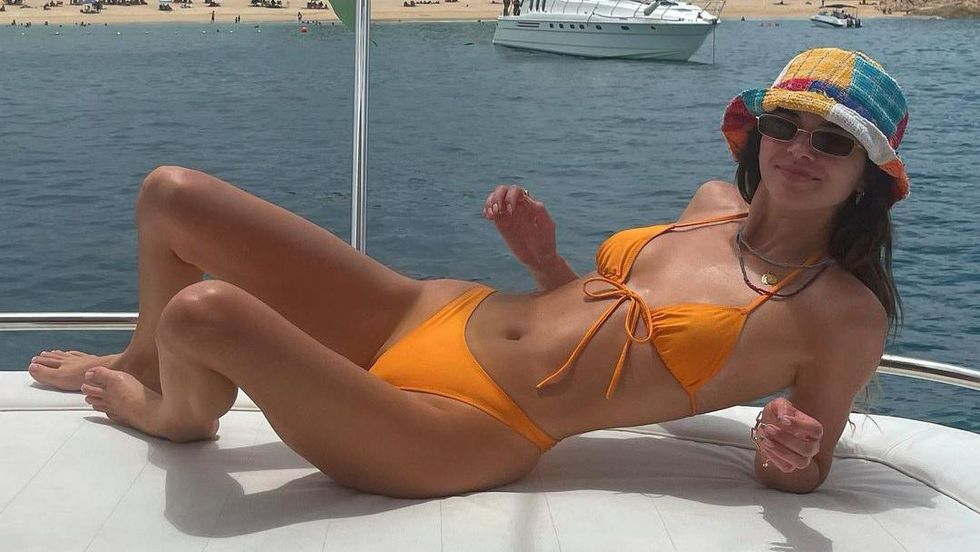 Summer days aren't over just yet, so as you get ready for your next weekend getaway in the Hamptons or overseas to a far-off island in Greece, there are tons of new brands to keep in mind for holiday packing—and beyond. Popularized supermodel besties Kendall Jenner and Hailey Bieber, these six emerging labels have immediately become this season's cult favorites. Discover (and shop) them all below.
"I started Heavy Manners through a habit of daydreaming," says founder Lisa Caprio, who was finally able to turn her dreams into reality with the launch of a colorful '90s-inspired swimsuit collection recalling her carefree childhood days spent summering at the beach with her family. "I lived for the freedom of summers, running out the door every morning barefoot with a bikini on and a colorful beach towel in hand together with my sister." Based in New York City, Caprio wants other women to feel as good as she does in her Heavy Manners retro-fit bikini prints.
Designed in Los Angeles by Eleanore Guthrie, Knorts is a denim knitwear line created to better suit the founder's active lifestyle by reimagining the classic silhouettes into relaxed cotton knitted denim. "I wanted pleasure of unrestricted movement without sacrificing style and fit," says Guthrie. Knorts pieces are uber flattering and ideal for the summer. "Some of my fave designs like the vintage indigo-dyed Elongators paired with the matching Barely Bikini Top or Halter Vest are particularly perfect for vacations because they can easily transition from a daytime outfit at the beach into a sexy, nighttime outfit for dinner and hitting the club." The latest crocodile skin knit denim collection officially launched online on July 29th.
Former New York-based rag & bone Director of Knitwear, Phyllis Chan, teamed up with Hong Kong designer Suzzie Chung to launch YanYan Knits (人人)—meaning "everyone" in Cantonese—a premium slow fashion knitwear brand of fun and eclectic knits made in China using leftover yarns. The pieces are meant to be worn with a fearless attitude that embraces an individual sense of style—as taught to the founders by their respective grandmothers. "I love wearing print on print, pairing an oversized printed tee with our jacquard cotton or linen shorts worn with Tevas and simple no-fuss jewelry like stone bracelets," says Suzzie Chung. "Our linen dresses are great for the beach, they're super comfortable to lounge around in," adds Phyllis Chan. "And after the beach you're ready to go to dinner without feeling too underdressed."
Turkish founders Emir and Ceylin Türkkan Bilge of Mediterranean style brand Siedrés designed a fashion label that embodies a nonchalant yet polished lifestyle, one that combines both comfortable and playful pieces appropriate for different settings, from the city to the beach. "I love mixing and matching vibrant colors and patterns together," says co-founder Ceylin Türkkan Bilge. "Even pattern on pattern works really well with Siedrés pieces! We usually recommend styling our colorful pants with only a bikini top for the beach for an effortless look." Ceylin's favorite picks include the Dylan knit vest and the Issa black sequined shirt, perfect for a night out and everyday wear thanks to their stretchy fabric.
For Copenhagen-based siblings designers Nanna and Simon Wick from brand (di)vision—described as "two, double, twice, or the process of one becoming two"—"create from what already is" has always been their go-to M.O., so much so that most of their collections are made from leftover fabrics sourced in Italy. The creative duo's DIY and conceptual unisex garments that were designed and sewn from their Herley studio outside Copenhagen, take inspiration from classic silhouettes but with a crafty spin.
DMY by DMY sunglasses are the modern day woman's dream come true of an affordable yet high-quality must-have accessory. Founded by Demi Mae Yip—aka DMY—the design-led sunnies of the independent British eyewear brand are not just your average pair. Thanks to their nostalgic and timeless feel, these styles have captured the attention of many A-listers worldwide, with silhouettes like the Olsen and Preston becoming the ultimate revered frame to elevate any look.
window.REBELMOUSE_ACTIVE_TASKS_QUEUE.push(function(){
window.REBELMOUSE_STDLIB.loadExternalScript("https://htlbid.com/v3/coveteur.com/htlbid.js", function() {
});
});
window.REBELMOUSE_ACTIVE_TASKS_QUEUE.push(function(){
!function(f,b,e,v,n,t,s){if(f.fbq)return;n=f.fbq=function(){n.callMethod?n.callMethod.apply(n,arguments):n.queue.push(arguments)};if(!f._fbq)f._fbq=n;n.push=n;n.loaded=!0;n.version='2.0';n.queue=[];t=b.createElement(e);t.async=!0;t.src=v;s=b.getElementsByTagName(e)[0];s.parentNode.insertBefore(t,s)}(window, document,'script','https://connect.facebook.net/en_US/fbevents.js');fbq('init', '1248680838922690');fbq('track', 'PageView');
});