"Around the world, it seems, there is not a tree or shrub or delicate wildflower that has not been harvested, brewed, and bottled." – The Drunken Botanist by Amy Stewart
The thing about beverage trends is that they have a curious tendency to mirror the current zeitgeist. Espresso martinis? Reflective of our current craving for dancing into the wee hours, most likely. Canned spritzes? No doubt a symptom of our need for something that can be easily sipped at a picnic. And when it comes to botanical-infused drinks, all signs point to one clear cultural moment: wellness and its correlation to the natural world.
Botanicals and beverages have been in close contact for centuries, but over the past year, an increasing amount of brands have marketed this relationship to those seeking a more mindful drinking experience. Ahead, a breakdown of what botanicals are, how they're used in beverages, and all the ways to infuse your bar cart with something that helps you feel more connected to nature.
Meet the Experts
Yana Volfson is the beverage director at Enrique Olvera's acclaimed dining concepts Cosme and ATLA in Manhattan and the newly opened Damian and Ditroit in Los Angeles.
Olivia Kupfer is the brand director at Ketal One Vodka, which launched its Botanical portfolio in 2018.
Morgan McLachlan is the co-founder, CPO, and master distiller at Amass, a botanical spirits and body-care brand.
Melanie Masarin is the founder of Ghia, a non-alcoholic apéritif inspired by the Mediterranean.
Marsh and Jan Mokhtari are the co-founders of Gray Whale Gin, a handcrafted brand inspired by the gray whale's migratory journey.
Helena Hambrecht is the founder of Haus, a brand that offers a modern spin on the apéritif.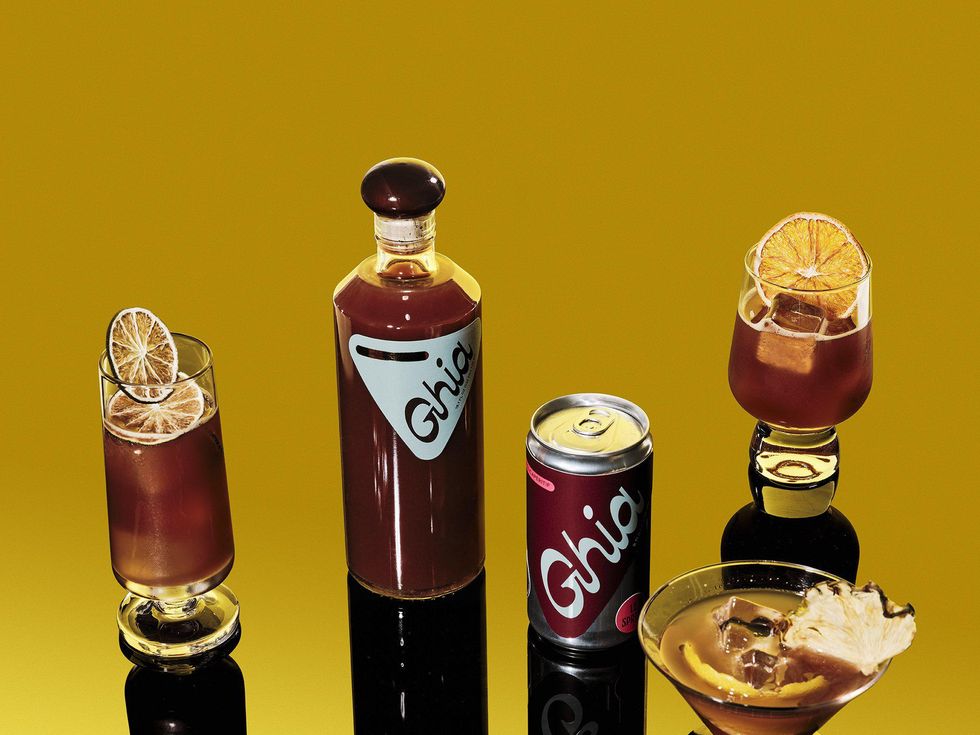 Photo: Courtesy of Ghia
Botanicals Defined
Simply put, botanicals are ingredients that come from plants—they also happen to be packed with nutrients. "From marigold petals in our vodka to hibiscus in our hard seltzer, botanicals are the building blocks for each of our beverages,"
McLachland says. Selecting and sourcing botanicals is unique to each drink, which means there's a world of options when it comes to all the ways you can use them. "For instance, the California bay leaf, rosemary, and grapefruit in Amass's dry gin are all hand-picked from my Los Angeles backyard, while other ingredients are selected straight from the source—clove in Sri Lanka, ashwagandha in India, lime leaf in Thailand, to name just a few," McLachland adds.
Rooted in History
Stewart explains in her book
The Drunken Botanist that the history of many herbs, spices, and fruits are the very history of medicine. Humans have been using botanicals to treat ailments for centuries. And while drinking a botanical-infused beverage should not be viewed as professional medical advice, there's nothing wrong with considering the benefits of something like a digestif that's aimed to sooth an unsettled stomach at the end of a big meal.
Medicinal properties aside, classic beverages that are rooted in history, like absinthe and chartreuse, are intrinsically linked to botanicals. The latter is so inseparable with botanicals that only
two Chartreuse monks know the identity of the 130 plants and flowers that are blended and distilled to craft this iconic liqueur. As for absinthe, its identity is defined by the balance of wormwood, anise, mint, and spices—that is, botanicals.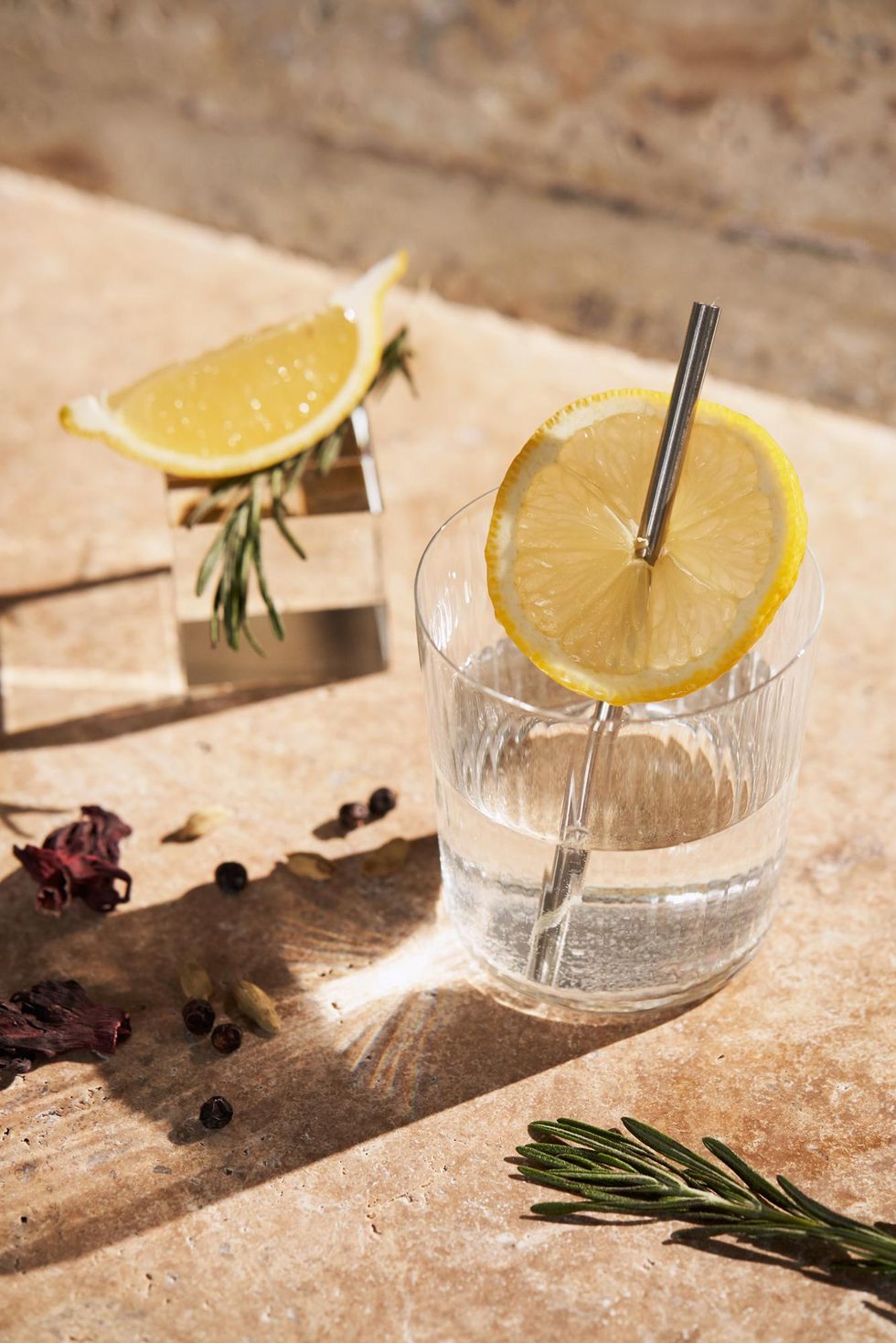 Photo: Courtesy of Amass
How Infusion Works
Masarin defines infusion as the specific process of steeping a raw material (usually in water) and extraction as a more general term for separating the functional or flavor elements of a raw material into a concentrated form through force, be it alcohol or other substances.
The dotted line between botanicals and consuming them are the processes of extraction and infusion. "To create our apéritifs, we steep our fruits, herbs, and botanicals in a blend of fermented chardonnay grapes, grape brandy, and a little bit of raw cane sugar. Nothing else added—that's it,"
Hambrecht says. "We developed our extraction process in-house, and it enables us to pull beautiful flavor from each whole ingredient." Over at Gray Whale Gin in California, botanicals are wild-foraged or sustainably sourced. "The distillation process is a one-shot London dry technique, where we start out with a six-times distilled, gluten-free, GMO-free corn base distillate," Mokhtari explains. "We then do one last distillation. The fresh botanicals go in a vapor extraction basket, and the dried go directly in solution. The resulting gin is a wonderfully sippable, balanced taste of California in a glass."
The Power of Plants
The appeal of sipping on something that's been infused with botanicals is its innate connectedness to nature. "We think of gin as the garden basket of the world. There are so many different varieties of gin that you simply never get tired of it, and they each tell the story of the place it comes from," Mokhtari says. Gray Whale Gin's six botanicals all come from the migratory path of the California gray whale—Big Sur: juniper; Santa Cruz: mint; Sonoma: fir trees; Mendocino: sea kelp; Central Valley: almonds; and Temecula: limes.
While there has been an influx of small-batch brands focused on botanicals, mass companies such as Ketel One have also noticed and responded to the growing migration toward wellness. "Over the last few years, we've noticed a shift in drinking behavior," Kupfer says. "Consumers are making a move toward conscientious living." Ketel One's Botanical portfolio offers three varietals that are 30 percent ABV and distilled with real botanicals.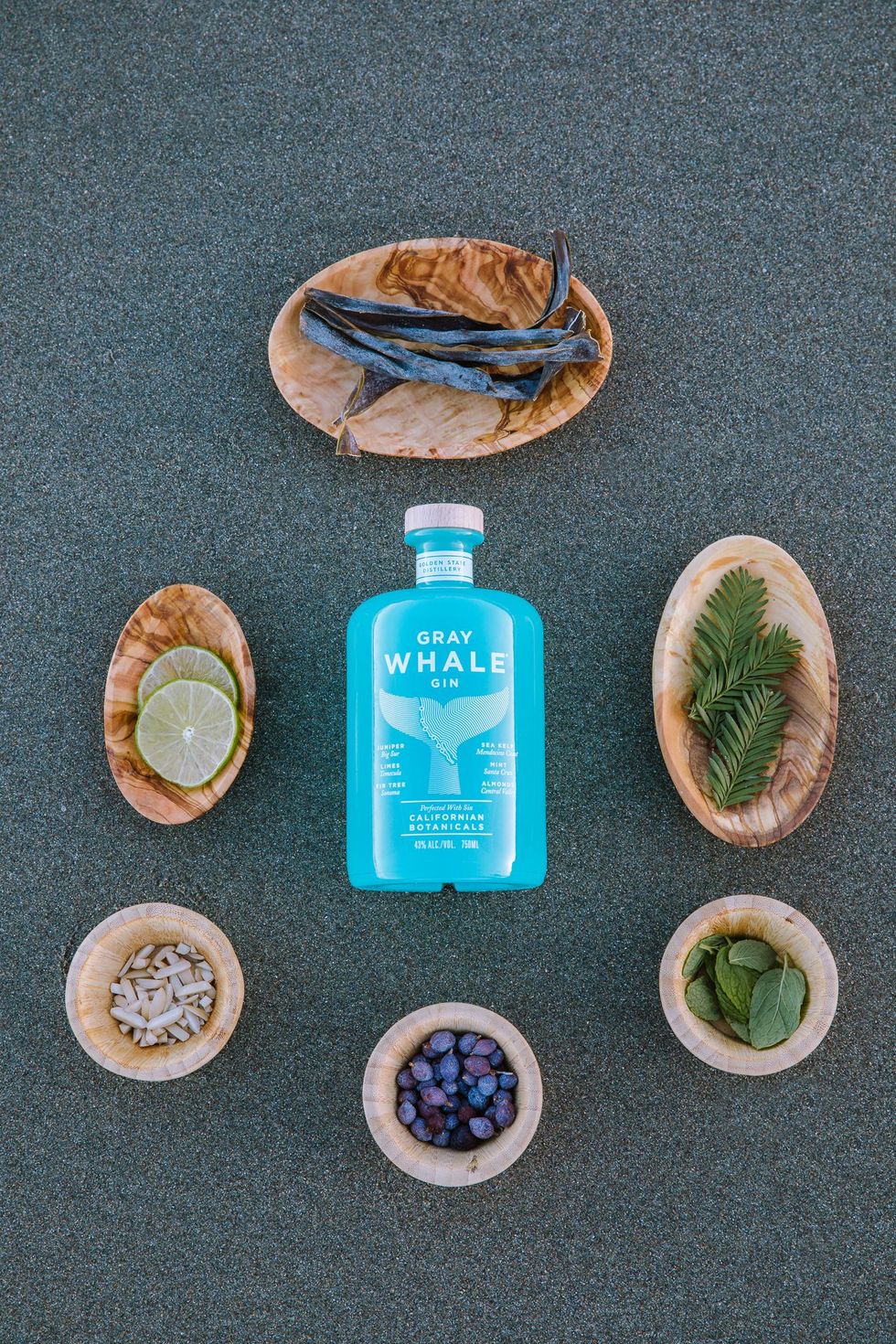 Photo: Courtesy of Grey Whale Gin
Complementing Non-alcoholic Drinks
Botanicals may play a big part in booze culture, but they also seamlessly fold into non-alcoholic beverages. "From our perspective, the botanical benefits really come through when there is no booze or added sugar getting in the way of them," Masarin says. "At Ghia, we lean on botanical extracts, which are very potent and give that extra sharp kick of flavor that's expected of an adult beverage. We specifically included lemon balm, a nervine with natural ability to soothe and stimulate."
An Apéritif's Best Friend
Hambrecht argues that apéritifs are the original better-for-you alcohol. "The earliest apéritifs, like amaro, date back to the 19th century when monks made them with herbs and botanicals in pharmacies for medicinal purposes," she says. "They've been around for hundreds of years and have always stayed low in alcohol, leaning on the complexity of botanicals, roots, and herbs for flavor." She indicates that a shift in how Americans have been drinking in the past few years is similar to that of European apéritif culture. "People [are] drinking with friends to be present and connect, not to get wasted and feel terrible the next day," she says. "And with their low-ABV and fresh, botanical ingredients, apéritifs are an obvious answer. This is a big reason why Haus exists today."
What to Order at the Bar
So you're at the bar and want a botanical beverage—what do you order? "I look for botanical pleasure in vermouths, amaros, and bitters," Volfson shares. If you happen to be in town and can pay a visit to one of her restaurants, at Damian, she is serving a smoked highball that's infused with lapsang souchong tea and garnished with fresh eucalyptus. "At Cosme, we make a Yuzu Raspado garnished with a bouquet of herbs. Both have some internal cooling affects that make them summertime choices." Volfson doesn't use any processed sugar in her beverage programs, but instead, natural sweeteners like honey and maple syrup. "These sweeteners can carry the flavor and energy of certain botanicals and alcohol," she explains. "This is similar to concepts of fats like oil or butter, and vinegar and water. One isn't necessarily better than the other, it just really depends on the properties you are looking for through infusion."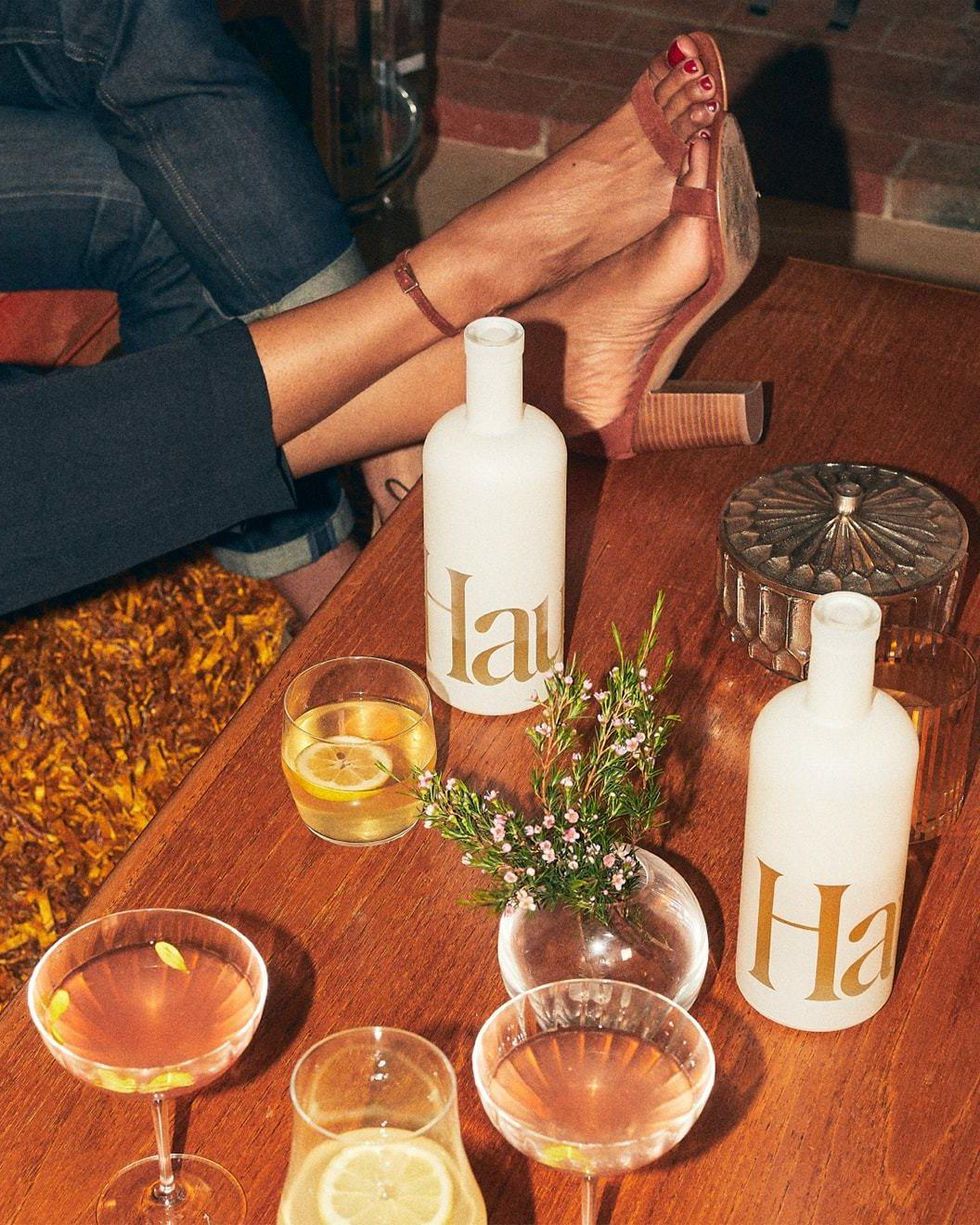 Photo: Courtesy of Haus
What to Make at Home
Enjoy a few recipes from our experts for your foray into botanical beverages. Cheers!
Ghia
1 part Ghia; 2 parts bubbles; slice of lime.
Ketel One Botanical
1.5 oz of your favorite Ketel One botanical varietal; 3 oz soda water. Build in a wine glass with ice and garnish with your choice of fragrant herbs, crisp citrus, or other fresh fruit.
Haus
2 oz Grapefruit Jalapeño poured over ice.
Gray Whale Gin
2 oz Gray Whale Gin; 1/2 oz fresh lemon juice; 1/2 oz fresh lime juice; 1/2 oz agave syrup. Shake all ingredients over ice and strain over fresh ice. Garnish with whole lemon and lime wheels.
Amass
Stir 1 1/2 oz Amass dry gin, 1/2 oz lemon juice, and 1/2 oz simple syrup in a tall glass with ice and top with 3–4 oz of Faerie Fizz. Garnish with a lemon wheel.
window.REBELMOUSE_ACTIVE_TASKS_QUEUE.push(function(){
window.REBELMOUSE_STDLIB.loadExternalScript("https://htlbid.com/v3/coveteur.com/htlbid.js", function() {
});
});
window.REBELMOUSE_ACTIVE_TASKS_QUEUE.push(function(){
!function(f,b,e,v,n,t,s){if(f.fbq)return;n=f.fbq=function(){n.callMethod?n.callMethod.apply(n,arguments):n.queue.push(arguments)};if(!f._fbq)f._fbq=n;n.push=n;n.loaded=!0;n.version='2.0';n.queue=[];t=b.createElement(e);t.async=!0;t.src=v;s=b.getElementsByTagName(e)[0];s.parentNode.insertBefore(t,s)}(window, document,'script','https://connect.facebook.net/en_US/fbevents.js');fbq('init', '1248680838922690');fbq('track', 'PageView');
});